Find a Certified Rowing Instructor
Taking a class from a certified Concept 2 rowing instructor is your guarantee that you're learning from someone who's primed with all the fundamentals needed to give you an experience that is effective, safe and most of all fun! Refer to the list below to find an instructor in your area, and check back often as it is updated regularly and the list is growing.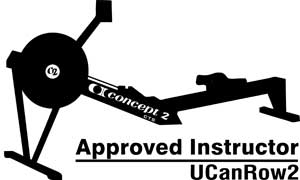 Ready to get certified yourself?  Learn more about our rowing instructor training course! 
Alabama
Hartselle
Alice Evans
aevans@hiwaay.net
Arizona
Tempe
Helen Griffin
grif1422@aol.com
480-695-5128
Tucson
Kory Faber
koryfaber@yahoo.com
Eugene McDougall
ugenem@gmail.com
California
Long Beach
Victoria Draper
victoria.draper@rowfx.com
John Mustafa
jwmustafa@yahoo.com
310-697-3153
Marin
Eileen Hansen
eileen_hansen@mac.com
eileenhansen.com
San Diego
Art Sloate
art.sloate@gmail.com
San Francisco
Dino Adelfio
dadelfio@gmail.com
StrokeSF
Saratoga
Audra Amlicke
audra@amlicke.com
Colorado
Denver
Connor Barry
connor.s.barry@gmail.com
Colorado Athletic Club Monaco 
Chris Murdy
cmurdy@redpeak.com
Colorado Athletic Club Monaco 
Dawnmarie Schwappach
dawnmarie.schwappach@att.net
Colorado Athletic Club Monaco
Deb McCabe
Debra.Mccabe@colorado.edu
Longmont Sculling Club
Connecticut
Hartford
Gretchen Gregg
ggregg@snet.net
Riverfront Recapture
Thompson
Kirsten Creighton
kcreighton0354@gmail.com
Delaware
Eden Venti
eden_venti@hotmail.com
Wilmington Rowing Center
CrossFit Riverfront
Florida
Boca Raton
Michael Brock
scarfacebrock@yahoo.com
Juno Beach

John Gepp jdgepp@aol.com
Rowland Indoor Rowing
Kay Ritger
kayritger@yahoo.com
Rowland Indoor Rowing
Orlando
Paul Austin
pc.austin@earthlink.net
Panama City
Jamie Price
jpwsc85@gmail.com
The Row 2 Wellness
Georgia
Atlanta/Smyrna
Charles Anderson
charles.s.anderson@gmail.com
Rowbot Fitness
Aubrey Anderson
aubrey.k.anderson@gmail.com
Rowbot Fitness
Jules Booker
jules@julwork.com
Rowbot Fitness
Brian Flowers
brian.flowers@travelport.com
Rowbot Fitness
Tricia Griffin
tricia@triciagriffin.com
Rowbot Fitness
Illinois
Chicago
Erin Cunningham
erin@crossfitchicago.com
www.crossfitchicago.com
Fred Eigenmann
info@teamifit.com
ENRGi Fitness 
Bethany Fenton
bnfinit@gmail.com
RowFit Chicago
Pat Fitzpatrick
LAXattk9@yahoo.com
RowFit Chicago
Morgan Funke
morgan.funke@gmail.com
Chauncey Hoffmann
chaunceyhoffmann@gmail.com
RowFit Chicago
Karen Stoychoff Inman
karen@eadperformancecenter.com
Elite Athletic Development 
Alida Bray
alida.bray@gmail.com
Elite Athletic Development 
Kelly Johnson
kelly@crossfitchicago.com
CrossFit Chicago
Kris Kazibut
kkazibut@gmail.com
RowFit Chicago
John Kiefer
jkiefer39@aol.com
CrossFit Chicago
Derick Larrow
da.larrow@gmail.com
Chicago Elite Fitness 
Rose Marchuk
roserows@ameritech.net
New Trier High School
Chris Molitor
clmolitor@gmail.com
Galter Life Center 
Nell Shuttleworth  *Master Instructor
nell@rowfitchicago.com
RowFit Chicago
Erin Sian
RowFit Chicago
Eric Smies
eric_smies@yahoo.com
RowFit Chicago
Megan Slattery
mmslattery@schosp.org
Galter Life Center 
Brandon Walt
brandon.walt@gmail.com
Lincoln Park Boat Club
Steelwater Rowing
Inflexion Fitness
Erin Sian Williams
erinsian80@gmail.com
Crystal Lake
Al Gallinati
algrow2fit@comcast.net
Crystal Lake Rowing Club
Sue Koscielski
sue@kocentral.com
Crystal Lake Rowing Club
Kim May
hokiemule@gmail.com
Crystal Lake Rowing Club
Mark Noel
mark.noel@emc.com
Crystal Lake Rowing Club
Jacksonville
Pete Lira
carriagehousecf@gmail.com
www.hitechgym.com/carriagehouse/
Skokie
Petra Dietz
pepiyv@yahoo.com
Wilmette
Ron Boi
rrbcycles1@gmail.com
Northshore Fitness
Brian Easter
brian.easter@comcast.net
Northshore Fitness
Iowa
Davenport
Terri C. Baustian
tcbaustian@yahoo.com
Kentucky
Louisville
James Glasscock
JamesWesley19@yahoo.com
CrossFit Scullhouse
Indoor Rowing Louisville
Louisiana
Alexandria
Chris Chelette
chrischelette@hotmail.com
CrossFit Southbank
Lisa Lauve
lrlauve@aol.com
CrossFit Southbank
Jeff Prejean
jeffprejean@gmail.com
318-658-3805
CrossFit Southbank
Trayce Snow
snowtl@bellsouth.net
CrossFit Alexandria 
Mandeville
Lisa Grab
lisagrab@aol.com
CrossFit Mandeville
Meredith Timberlake
mtimberlake10@yahoo.com
CrossFit Mandeville
Maryland
Annapolis
Todd Pekel
tmpekel@gmail.com
Evolutions
Baltimore
Amy Kleine
amykleine@gmail.com
Baltimore Rowing Club
Bel Air
Brian Bizzano
brian.bizzano@gmail.com
CrossFit Bel Air
Rock Creek
Chad Fleschner
c.a.fleschner@gmail.com
Rock Creek CrossFit
Massachusetts
Cambridge
Sunny Schettler
sunnyincambridge@yahoo.com
Michigan
Ann Arbor
Eleanor Winslow
ejwinslow74@gmail.com
CrossFit Griffin
Bloomfield Hills
Kelly Dewey
kedew007@gmail.com
Coleen Giniel
coleenginiel@yahoo.com
Hillary Levin
hillarylevin@gmail.com
Jordan Levin
James McLaughlan
j.i.mclaughlan@gmail.com
Fitness Innovation Team
CrossFit Bloomfield Hills
Houghton
Sarah Fuhrmann
sfuhrmann@ucanrow2.com
UCanRow2
Terry Smythe *Master Instructor
tsmythe@ucanrow2.com
UCanRow2
Kalamazoo
Steve Ball
steveball@borgess.com
Borgess Health and Fitness Center
Erin Carlson
erinc@crossfitazo.com
CrossFit AZO
Sarah Gillig
sarahgillig@hotmail.com
Borgess Health and Fitness Center 
Karen Sue Mackaluso
ironmom98@aol.com
Borgess Health and Fitness Center 
Tom Noverr
tnoverr@kazoocmh.org
Borgess Health and Fitness Center 
Marquette
Lynn Baldwin
lynbaldwin@charter.net
Upper Peninsula Community Rowing Club
Deb Jean
djrowsmqt@hotmail.com
Upper Peninsula Community Rowing Club
Ann Piereson
AMP7983@yahoo.com
Upper Peninsula Community Rowing Club

Simone Vajda
wsljv@aol.com
Upper Peninsula Community Rowing Club
Susan VandeWalle
fiveto1now@aol.com
Upper Peninsula Community Rowing Club
Mississippi
Nesbit
Rick Gordon
midsouthindoorrowing@yahoo.com
Oxford
Charles Allen
crallen@olemiss.edu
Ole Miss Turner Center
Julia Koch
jckoch@olemiss.edu
Ole Miss Turner Center
Stephanie Tuttle
stephaniedtuttle@gmail.com
Missouri
St. Charles
Jamie Wansing
jl44951@gmail.com
CrossFit St. Charles
St. Louis
Leeny Hoffman
leenyhoff@aol.com
CrossFit St. Louis 
Laurie Miller
lkmiller11@gmail.com
CrossFit Wise 
Nevada
Reno
John Berriochoa
jberrioc@unr.edu
University of Nevada Reno
Julian Castro
castroj8@yahoo.com
University of Nevada Reno
Nora Constantino
nlc@unr.edu
University of Nevada Reno
Jim Fitzsimmons
jaf@unr.edu
University of Nevada Reno
Alvie Hafen
fearlessone34@hotmail.com
University of Nevada Reno
Sheena Harvey
sheenah@unr.edu
University of Nevada Reno
Eric James
ejames@police.unr.edu
University of Nevada Reno
Jill Karlin
jkarlin@unr.edu
University of Nevada Reno
Rebecca Marchand
rbcmarchand@gmail.com
University of Nevada Reno
Brian Michaelson
bmichaelson89@gmail.com
University of Nevada Reno
Kalea Subesta
k_sebesta@yahoo.com
University of Nevada Reno
New Hampshire
New London
Michael Todd
michael@wmichaeltoddlaw.com
Colby Sawyer College 
New Jersey
Jersey City
John Ponticorvo
jponticorvo@aol.com
Princeton
Rose Ford
rosef79@verizon.net
Carnegie Lake Rowing Association
Shrewsbury
Gail Lahm
jeffrey.lahm@verizon.net
Navesink Indoor Rowing 
New York
Brooklyn
Bernard Carrington
bernard.c2@hotmail.com
Donna Carrington
trisent666@hotmail.com
Israel Gonzalez
israel_gonzalez@hotmail.com
CrossFit 718
Hicksville
Paul Portugal
PGP626@aol.com
New York City
Jarret Scheinman
JScheinman@hotmail.com
Garth Wakeford
garthwakeford@hotmail.com
New City
Debora Ballin
TennisDLB@aol.com
Nyack
Cara Bristol
carabristol@gmail.com
Plainview
Julie Shisko
fourcoop@gmail.com
Ohio
Chippewa Lake
Mark Krosse
mkrosse@gmail.com
Medina
Carole Laney
carole@carolelaney.com
Toledo
Matt Elvey
matt_elvey@owens.edu
Jami Williamson
jami_williamson@owens.edu
Gordon LaPointe
gordon_lapointe@owens.edu
Oregon
Portland
Shawn St. Michael
shawnstm@gmail.com
Pennsylvania
Jenkintown
Ken Foran
kaforan@yahoo.com
Philadelphia
Carol Elia
yoga4kids@verizon.net
RowZone Newtown Square 
John Belanger
John.Belanger@dla.mil
RowZone Manayunk 
Ashley Maguire
armaguire88@gmail.com
RowZone Manayunk
Pittsburgh
Richard Butler
coachrtb@gmail.com
412-498-9017
South Carolina
Columbia
Bucky McQueen
amcqueensc.rr.com
Greenville
Debbie Busbey
dlschmitt500@aol.com
Greenville Indoor Rowing
Lowell Caylor
lowell.caylor@yahoo.com
Greenville Indoor Rowing
Laura Caylor
lauraandlowell@bellsouth.net
Greenville Indoor Rowing
Robin Meuldijk
robinmeuldijk@bellsouth.net
Greenville Indoor Rowing
Anne Moore
anne@archiesroom.com
Greenville Indoor Rowing
Sandi Smith
smithgreenville@gmail.com
Greenville Indoor Rowing
Lexington
Gregg Marturano
vgm@windstream.net
CrossFit Iron Mary's
Texas
Dallas
Terri Arends
t.arends@att.net
JCC of Dallas
Houston
Grace Carbajal
gcarbaja@villanova.edu
Parati Competitive Rowing
Waco
Rowdy Hurst
rowdyhurst77@aol.com
CrossFit Waco
Jonathon Shelton
jonathon@crossfitwaco.com
CrossFit Waco
Rockwall
Mary Woodruff
mary@crossfitrockwall.com
CrossFit Rockwall
Virginia
Ashburn
Nate Naidas
nate@crossfitimpavidus.com
CrossFit Impavidus
Woodbridge
Marty Meyer
marty.meyer111@verizon.net
Gold's Gym – Woodbridge
Washington
Everett
Jane Jacobson
janemarieja@aol.com
Everett Rowing Association
Port Angeles
Deana Volker
dvolker54@gmail.com
Olympic Peninsula YMCA
Seattle
Heather Alschuler *Master Instructor
heather.alschuler@gmail.com
Row to the Future
JP Ramirez
jp@elitefitnessnw.com
Elite Fitness Training 
Tacoma
Paul Nordquist
pwnrdquist@gmail.com
Wisconsin
Milwaukee
Randy Leach
rleach4@wi.rr.com
Puerto Rico
San Juan
Michelle Gregory
michgregory@gmail.com
Fit Factory
Canada
Alberta
Calgary
Kat Storwick
kstorwick34@gmail.com
Bodyrock Fitness
Nichole Watson
nicholew1@gmail.com
Bodyrock Fitness
British Columbia
Vancouver
Colin Wong
aloha.colin@gmail.com
White Rock
Victor Castelli
vmcastelli@hotmail.com
Ontario
Barrie
Cheryl Arends
cherylarends@gmail.com
Barrie Rowing Club
Elaine Bursztyn
elainebursztyn@gmail.com
Barrie Rowing Club
Pembroke
Roberta Crowle
Wanda Gagnon
rickwanda@nrtco.net
Kevin Mahoney
ali-kev@nrtco.net
Newfoundland
Tina Hunt
TINA.HUNT@forces.gc.ca
Quebec
Terrebonne
Daniel Aucoin
danaucoin@videotron.ca