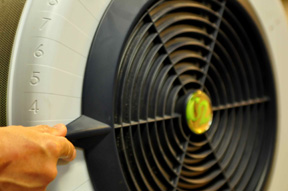 How many times have you walked over to the rowing machine at the gym and found the damper set at 10?  Experienced rowers, and certified indoor rowing instructors, know this is the way to create a rowing workout that's a slog, and one that most likely will be the absolute opposite of fun or energizing.  Who needs that, especially when it's not the least bit necessary??
Take a walk around the rows of ergs at the C.R.A.S.H-B World Indoor Rowing Championships and you'll find many machines set much lower, anywhere between 2 and 5.  Generating power on the rowing machine is all about connecting the parts of the stroke, NOT about creating more resistance just because you can.
There are a couple of exceptions to that:
1) Very heavy people (weight-loss or muscle-bound rowers, for example) may need a higher damper setting in order to be able to feel some resistance from the machine.  This is because at a lower setting their own bodyweight does most of the work so they don't have to put in any extra effort to move the flywheel.  In these cases a higher setting that adds more load is the ticket to a great sweat.
2) Rowing at a higher damper setting – for short periods and ONLY at a low stroke rating – is also a useful way to teach any rower to develop power through correct engagement and to help them dial in their rowing technique.
Want a rowing workout that will help you play with damper setting and connect these dots?  Try this:
Chad Row
Warm up then do 2-3 rounds of the following:
Damper   Time     SPM
10             6 mins     18
8.5            5 mins     20
7                4 mins     22
5                3 mins     24
3               2 mins     26
1                1 min       28
3-minute paddle rest between rounds.  Remember to focus intently on your technique and posture – let the drive come from your legs and core engagement.
For more reading: Concept2 damper setting page
                                      Find a certified indoor rowing instructor
Get certified to teach indoor rowing
What questions do you have about damper setting?  Post them to the comments and we'll answer!