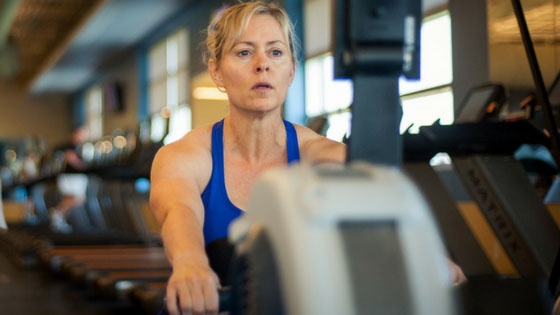 What's your 10K erg strategy?  Do you have one?
If you've ever done one of these endurance workouts, you know that they're a huge mental challenge, almost more than a physical one.  It's best to go into them with some sort of goal, especially since simply gutting it out over the course of a long distance is HARD, and often unproductive.
It's an interesting distance, 10,000 meters.  Less than a quarter of a marathon but 5 times longer than a 2K.  Among the endurance distances it's relatively doable and a great place to get started with longer rows or skis.
But it's not a distance you want to go into without a plan, even if your goal is simply to do it as quickly as possible.   For most people and depending which machine you're on, you're looking at spending something on the order of 45 minutes to an hour working in that "you can talk but you'd rather not" range.  Not everyone's idea of fun.
If you just "jump on and go," the machine will punish you.  Especially the Ski Erg.  Even more especially if you're doing the Concept2 Tour de SkiErg, that crazy series that has people skiing a different distance every week throughout February.
Your 10K Erg Strategy
There are several ways to approach putting together your 10k plan. You can base it off existing online records, your own past times, or simply set a survival strategy of mind games to get through.  Whatever you do, approach this as a challenge, one that you will be proud of accomplishing.  Or at least saying it's done!
Here's how we approach the 10k erg strategy:
CHECK THE RECORDS
Start by heading to the Concept2 website and checking the 10,000-meter rankings for your age group and gender on either the rower or SkiErg.That will give you a sense of what to aim for if you have a big goal in mind.   You can also look there at the world and American records in case you want to go really big.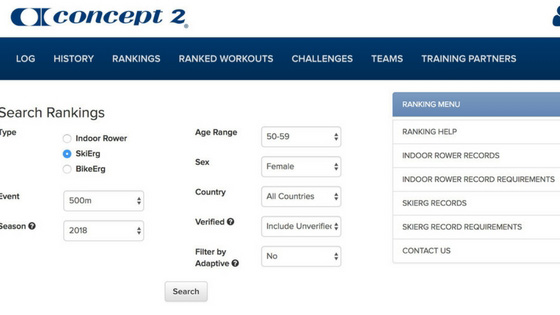 Play the percentages
When you're in the rankings you'll be able to see what sort of times people are logging for the current ranking year.  So in the example below, the current average 10k row time for women in the 30-39 age group is 47:40.1.
Now look under the Percentiles header on the right.  You'll see the range of times for people in this age group and below them the corresponding average split or pace.   10K times in this age group range from 50 minutes plus down to just over 36 minutes (the current leader in the rankings).

That gives you an excellent sense for how long it might take you to go the distance.   Think you 'll do it faster or slower?  Head over to the Concept2 PACE CALCULATOR to crunch the numbers on what that might look like.
Another option is to check your ONLINE LOGBOOK for your previous time(s) at this distance.  How are you feeling?  Ready to PR?
GET ON PACE
OK!  So now we know what target you're trying to hit.  How to stay on pace?  One of our favorite 10K erg strategy tips is to use a pace rower, skier or rider.
Decide beforehand if you'll be more motivated by trying to keep up with the pacer, stay ahead of it, or keep even.  Adjust your pacer's split time accordingly.   Everybody's different – Do you like to be ahead or do you like the chase?  For some of us, there's nothing better than leaving that little guy in the dust.  For others, it's all about the thrill of trying to catch him.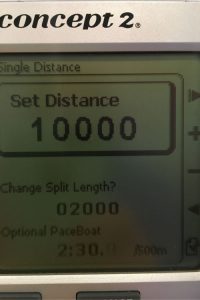 How to set your pacer:
From the main menu hit Select Workout > New Workout.
Set your distance, then set your pacer time under Optional Pace Boat (or Skier, etc.).
Hit the check box on the right.4. If needed, hit the Change Display button until the pacer screen appears.
NOTE: You cannot reset the pacer during the workout, so think carefully about how you want to use it before you start.
HELP WITH THE HEAD GAME
In the final analysis, 10K erg strategy comes down to how you handle the mental challenge.  Here are our best tips for that:
Take it 1000 meters at a time
Once you get the flywheel going, lock in your pace and keep your breathing under control.  Don't let adrenaline get the best of you.
Every 500-1000 meters take a hard 10 or so strokes to pick up the flywheel if you start to see your split drop or just need a mental pick-me-up
Have a best-case and worst-case split or finish time in mind.  Know what your goal is, but also have a bar below which you refuse to drop.
If you go out too hard or too fast, the machine will punish you.  If that happens, give yourself a few hundred to 1000 easier meters to recover, then get back in and readjust your finish goal accordingly if needed.
For some, the Zen of the flywheel is all they need in their ears to get the job done.  For others, a really good playlist is clutch.
When you hit the last 500-1000 meters, empty your tank.  Give it all you've got!
If your "10K erg strategy" or goal is simply to survive the distance, think about staying at a pace where you can talk but you'd rather not.  Never mind carefully calculating a target finish or split time.   For more ideas on how to "make a game of it," head over to our post about 10 indoor rowing workouts to kill 10K. 
whew!  Glad that's over
It's a sweet feeling when that monitor ticks over to 0 meters left.  Once you're done, make sure to hydrate right away with water or a diluted sports drink and stretch.
Depending on your usual workout length and whether this was a big effort for you, you might need a post-workout snack or protein shake.  We're partial to easily digested whole foods like bananas and sweet potatoes with a good hit of protein to help rebuild all those muscles you just used.
Don't forget to record your time in your logbook, and give yourself a high five for a job well done.  Or better yet, hop over to our RowStrong Facebook group and share your success!
Questions? Comments?  PRs?  Post 'em down below, we're excited to see!
MORE RESOURCES
Tricks to Dominate Endurance Rowing Workouts
4 SkiErg Sprint Tips and a Race Strategy
5 Keys to Nailing the Half-Marathon Row
Monster Meter Endurance Rowing Workouts