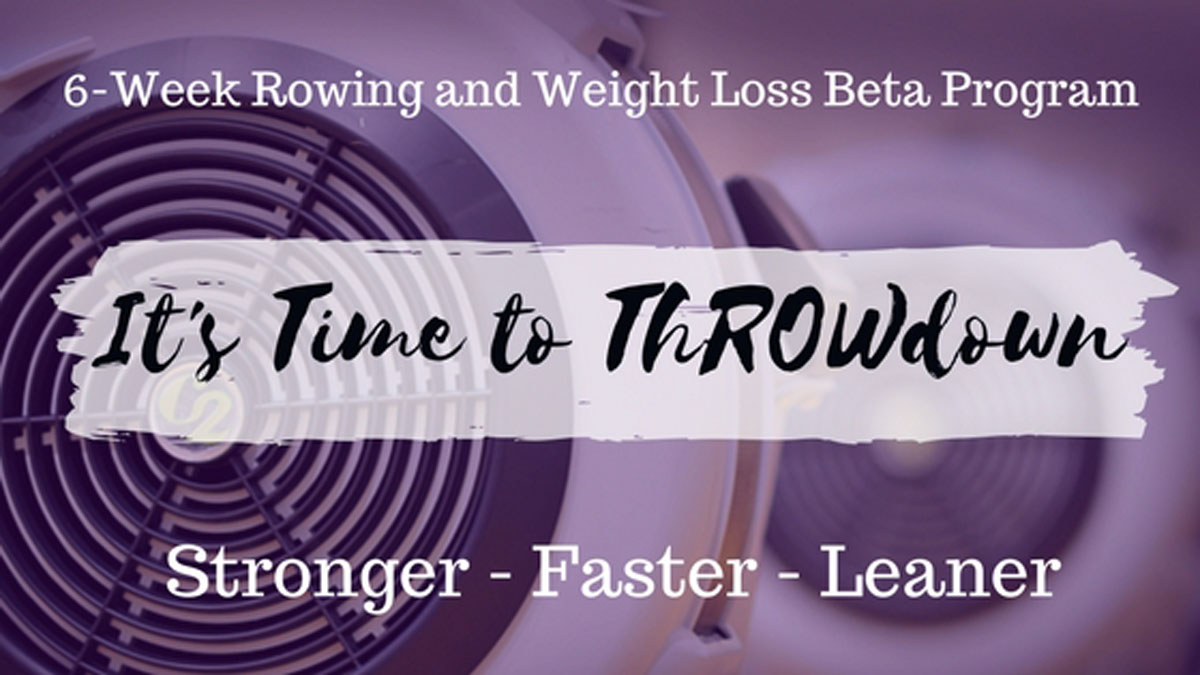 Is 2018 your year to finally hit your weight loss goals?
get flywheel fit!
Join us for the UCanRow2 ThROWdown beta program and be the first to experience this premiere, rowing-based fitness and weight loss program AT ITS LOWEST PRICE EVER.
DO ANY OF THESE SOUND like you?
You feel tired and frustrated because your weight loss has stalled, that nothing you've tried to lose weight has worked
You love to row (or want to try it), but don't know how to use rowing workouts to help with your weight loss goals
Losing weight has become a lonely battle, and you wish you could connect with like-minded people in a non-intimidating environment
You feel overwhelmed by all the conflicting diet information out there, and just want a sane, proven approach that lets you find and follow the formula that works for you
So many of you tell us that these are your exact struggles. You're sick of feeling overweight, but you feel
chained to your diet and deprived of all the foods you love.
You keep hearing that rowing is the key to weight loss, yet you don't know how to use it for that.
Age, injury, and menopause don't help.
We get it because we've lived it
That's why we felt compelled to create a program that would give you the exact tools you need to Find Your Fitness Formula. The one that will allow you to finally get fit and lose weight WITHOUT losing your sanity.

What is the throwdown BETA?
The ThROWdown beta is a 6-week program that will help you change the shape of your body and find YOUR specific roadmap to weight loss, your Fitness Formula. It is the test run of our new 12-week program, a first in the industry.
Other weight loss programs tell you exactly what to eat, but they don't teach you the behaviors that will keep the scale headed in the right direction consistently over time.Other programs say all you have to do is "Just Row," the more the better.
it's more complicated than that. but Four decades in the trenches helping people lose weight – and losing weight ourselves – have taught us that Weight loss IS absolutely possible through rowing, no matter your age or stage, provided you manage your nutrition at the same time.
Why would you want this:
Endless hours of sweating in a gym
"Diet" prescriptions that require you to overhaul your kitchen and your life in one fell swoop
Being left on your own to figure out what your rowing program should be
Workout expectations that are too high, and intimidating
Programs that don't offer any support or accountability
Feeling overwhelmed by nutrition and diet information – not knowing where to turn
Programs that require a long-term commitment
When you can have this?
Shorter-duration workouts that are effective and don't waste your time
Programs that work with your personal food preferences and way of eating
Rowing workouts designed by the experts, with a specific goal of burning fat
Workout programs that meet you where you are and take your health and fitness considerations into account
Structure, accountability, community and support from a like-minded group of people
Nutrition guidelines that help you make small, incremental shifts that add up to BIG change
Programs you can do in manageable chunks
There are only 30 spots in the beta program. As one of the select handful of people accepted for the 6-week ThROWdown beta test, you will get FIRST access to all the tools we will be sharing in the full 12-week program.
We are offering this at a SIGNIFICANTLY lower price than the cost of the final program. All we ask in exchange is that you give us ongoing feedback about the program, participate in its private Facebook group and be willing to share your hits and misses with us.
Meet Your Team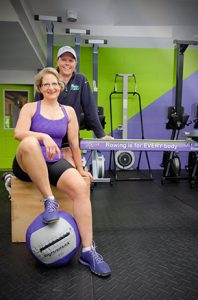 Hi! We're Terry Smythe (in back) and Sarah Fuhrmann. We're the co-owners of UCanRow2 and the masterminds behind the ThROWdown.
Terry's been working with athletes of all ages, shapes and sizes for the last four decades.
A former fitness director at a medical fitness facility, she's helped hundreds of people lose weight using the rowing machine.
Terry's also certified personal trainer through the American Council on Exercise, a Level 3 USRowing coach and a former US national team rower.
Sarah is a veteran of the weight loss wars. You name the diet, she's been on it. Permanent change came with rowing. She's lost more than 40 pounds with the help of the rowing machine and the principles she'll teach in this course.
She's certified by Precision Nutrition and is trained in cognitive behavioral therapy (CBT) for weight loss through the Beck Institute for Cognitive Therapy.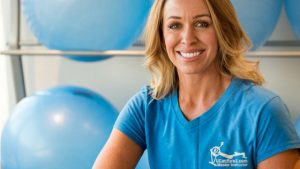 Katie Rosso Recker
I'm Katie, a master instructor for UCanRow2. I'm a mom of three so I totally get the challenges of fitting in fitness and self-care into our busy lives.
I'm a certified personal trainer through the American College of Sports Medicine. Right now I'm working on a cancer-specific certification so I can use rowing with cancer survivors.
Who is the ThROWdown for?
People who are ready to release their inner athlete and nail their fitness and nutrition goals
People who are tired of going it alone, want structure, accountability and support to meet their fitness and weight loss goals
People who are looking for a rowing-based fitness and weight loss solution
Indoor rowing lovers who are ready to use the machine to meet their specific weight-loss goals
People who are ready to take control of their fitness and find their perfect Fitness Formula that will get them Stronger – Faster – Leaner
Who is it NOT for?
People who are training for a competitive rowing or other athletic event
Physique competitors or people looking to reach elite bodyfat levels
People who want a specific meal plan
People who aren't ready to take a fresh look at their fitness and nutrition and consider what they could do differently
People who want 1:1 coaching
What do I get with the ThROWdown beta program?
A closed Facebook group where you will have daily interaction with us, and the ongoing support of the community
Daily rowing workouts for each week of the program (delivered weekly). Two levels, one for people who are newer to rowing workouts, another for people with more experience.
Rowing technique videos
Video demonstrations of the off-erg moves
At least 3 live workouts you can tune in to in the Facebook group from your home or gym rowing machine, archived so you can go back to it and repeat it later
A new nutrition habit to practice each week
A daily reading or affirmation that will help you stay focused on your weight loss and train your brain to think like a thin person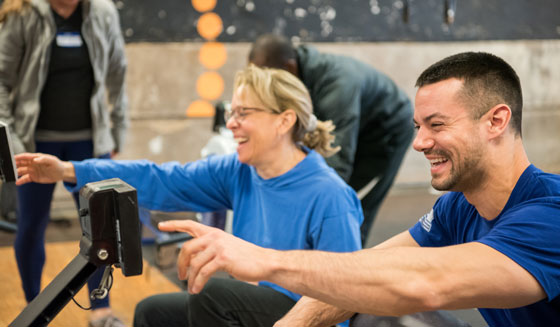 FREQUENTLY ASKED QUESTIONS
What if this doesn't work?
If, at the end of the beta program you feel that you haven't gotten the value you were looking for, we will be glad to refund your registration fee. We ask that you participate fully in the program. Fitness and weight loss are not achieved without effort and participation; we ask that you apply that to the program as well.
What if I need more support?
This program does not include 1:1 coaching. If you have specific needs training or nutrition questions, we can arrange for a private Skype session at an additional fee.
Do I have to have a Facebook account to do this program? Do I have to participate in the group?
Yes, you do need a Facebook account. The central communication point for the program will be a closed Facebook group. All the workouts, nutrition habits, live videos and any other information will be housed there. You will not be required to participate in the group, although it would be to your benefit to do so. We will, however, expect you to
Can I do this program without a rowing machine?
Not the entire time. We understand that there will be days when you don't have access to a machine due to travel or other circumstances. That's totally fine and there will be workarounds for that, but for the most part, we expect you to be able to row.
I'm new to rowing. Can I do this program?
Absolutely! This program is being designed with the novice rower in mind as well as the more experienced.
What other equipment will I need?
Initially, you'll only need your bodyweight and a rowing machine (or SkiErg or BikeErg). As you progress you will probably want to pick up some additional weights, dumbbells, kettlebells, or the like. By the way, this is where your input is going to be critical in the beta run: Finding out how much is enough and how much is too much on the workouts.
Do I have to buy any supplements or other products for the nutrition program?
Not unless that's something you already do. You will not be required to purchase any supplements or nutrition products as part of the ThROWdown.
Do you have to have a specific level of fitness to be able to do this program?
Nope! We will meet you where you are, just like the rowing machine.
What happens after I register?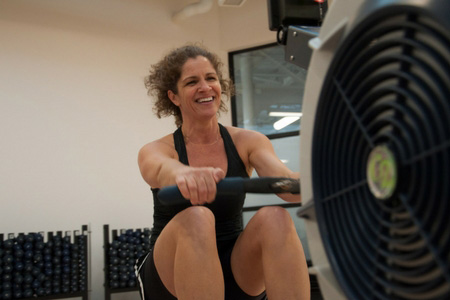 Upon purchase, you will receive a purchase confirmation with information on next steps.
You will need to request access to the ThROWdown group on Facebook, which will be available on Sunday, January 21st.
You will receive an email on Sunday, Jan. 21 with information on how to access the group. Please note that this email will go to the email you used to register.
THE PROGRAM BEGINS ON MONDAY JANUARY 22.
Any questions about the program or any issues you encounter when getting started can be directed to us at info@ucanrow2.com