Updated June 22, 2018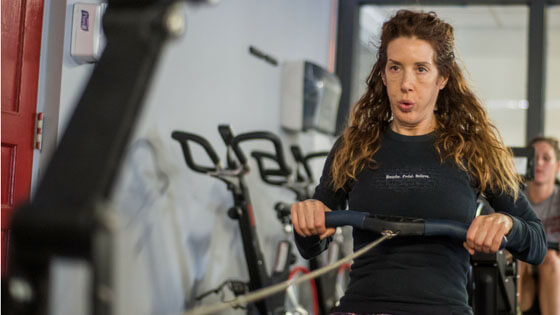 Endurance rowing workouts are the backbone of any good rowing training plan.  A couple of endurance workouts a week — we call them Monster Meter Workouts –will give you a solid fitness foundation to support whatever fitness activity is your focus.
Whether you're doing one of the Concept2 online rowing challenges, building your fitness base, working on losing weight with rowing, or looking for some steady-state relaxation, our Monster Meter workouts are just the ticket.  They'll help you burn up the meters without boredom, and hit your fitness targets.
Although we love a great interval rowing workout, there is always benefit to mixing in some high-volume rowing as cross training.  Doing one of these longer bouts a couple of times a week could also help you and your team score top honors in the Concept2 Challenges, always a bonus!
CASSI'S PYRAMID
10-minute warmup
Then row the following intervals, with 3 minutes of paddle (easy rowing) in between
250-500-750-1000-750-500-250 meters
endurance rowing workout #1
2-3000m warmup
3-4 rounds:
Row 1000m
10 cleans
10 push-ups
10 single-arm KB thrusters (L/R=2)
1 min. plank
Jeff's Jam
(From Certified Instructor Jeff Prejean of CrossFit Southbank)
Row 6 rounds of 1000m, resting (paddling) the same amount of time it took you to row each 1000m interval.  Aim to drop your split every round.
Fabulous 5k
Warm up then do:
0m -1000m Find your working pace (split), where you can talk butyou'd rather not
1k – 2k Rolling 100s: Alternate rowing hard for 100 meters, then paddling for 100 meters
2k – 3k Working pace (that you found in the first 1000m) for 500 meters, then row hard for 500 meters
3k – 4k Easy row for the first 200 meters, rolling 100s for the next 800 meters, row hard for the last 200 meters
4k – 5k Repeat the sequence above, sprinting the last 200 metersCool down 3-5 minutes at least before getting off the rower, then s-t-r-e-t-c-h.
3-2-1 Row!
Row 3000m
20 sit-ups
20 push-ups
Row 2000m
10 KB swings
10 KB goblet squats
Row 1000m
10 sit-ups
10 push ups
Ski (or row) 500m HARD
DONE!
Monster Meter Workout #1
(these workouts will get you through longer rowing sessions like the ones we do during the Concept2 World Erg Challenge and other row-as-many-meters-as-you-can challenges.  It's also a good starting place if you're just getting used to endurance workouts.
Row 3-5000 meters, get off the machine
10 pushups
25 sit-ups
30-second plank
Downward facing dog to stretch your low back and any other favorite stretches for 5 minutes.
Rotate as you wish and always end with stretching.
Monster Meter Workout #2
(A boredom buster that lets you grab meters on both the  Concept2 rowing machine and the SkiErg)
Warm up with a 5k row, then 5 rounds of:
5-minute row (Set your monitor for a 5-minute time intervals workout with unlimited rest)
25 sit-ups
5-10 push-ups
500 meter ski
Stretch and done!
Monster Meter Workout #3
(Pyramids to keep it interesting)
Set up a "new workout" on your rowing machine  to Intervals> Distance: Variable.
Set up intervals of 5,000, 4,000, 3,000, 2,000 and 1,000 meters, with "unlimited rest" between each.
Between each interval:
Ski 500 meters
Optional: 25 situps and 10 pushups
Adjust the number of intervals and the distance of each to meet your meter target.
S-T-R-E-T-C-H and record your meters!
Monster Meter Workout #4
Warm up, then row or ski 1-3 rounds of 3500m w/5 min rest. Set your monitor for Intervals>Distance and GO!
If you're rowing keep it at 24-26 strokes per minute on the work, 20-22 on the rest, and on either machine you want to be in a cardio zone (you can talk but you don't want to).
Don't forget to log your meters!
Monster Meter Workout #5
Set your rower monitor for Intervals>Variable with the following intervals of work and rest:
5000m /3 min rest
4000m/3 min rest
3000m/ 2min rest
2000m/3min rest
1000m/5 min cooldown!
Row at a sustainable, challenging pace so that you earn your rest paddle in between. Optional: get off and stretch in between rounds or do sets of pushups and situps.
Monster Meter Workout #6
5k warm-up row, then do three rounds of:
SkiErg 250m (or do 5 pullups if you don't have a SkiErg)
25 lunges (left and right legs count as 1)
100 single jumps with a jump rope
5k cooldown row
Record your meters, including those you skied. DONE!
Monster Meter Workout #7 (Monster Meter Maximus)
Ski 6k
Row 5k
Ski 4k
Row 3k
Ski 2k
Row 1k
Cool down and done!
Monster Meter Workout #8
Start with a 60-minute steady-state row at a challenging pace, alternating between 22 and 24 strokes per minute.
When done do 100 pushups, situps, squats in any combination you like, just be sure to finish them all.
Monster Meter Workout #9
Row 10k, then:
Ski (optimal), row or run:
2000m
1500m
1000m
500m
250m
In between do:
25 sit-ups
10 squats
15 push press
Cool down, record your meters, DONE!
Endurance Recovery Workout
Spin/bike or run: 30-60 min, talking pace
Circuit of 10 rounds of 5 reps, for time: push-ups, pullups, one arm dumbbell snatch, air squats, situps (scale/adjust these exercises to your fitness level and ability)
SkiErg/Row – 10 min cooldown
Stretch and done!
Row-ling 100s
10-min warmup then 1000 meters of work with 500m rest for at least 6 rounds (Always scale to your ability!).
The 1000m pieces alternate 100m at 85% effort (you can talk but you'd rather not) at 26 strokes per minute with 100m moderate effort at 22-24 spm. The 500m of rest are at a paddle pace, 22-24 spm.
Finish with floor work of your choice (push-ups, planks/abs, etc.).
DogsRow2 Workout #1
Row/Ski 2000m
10 kettlebell swings
5 lunges to front, side, back
10 push-ups
Row/Ski 1500m
Repeat weight/floor work
Row/Ski 1000m
Repeat weight/floor work
Ski 250m
Jog or walk around the block (400m), preferably with a dog if you have one handy.
Stretch and done!
Watts in a Name?
Warm up 10-15 mins, include stretching
Set Monitor for intervals – time and set for 1, 2, 3, 4, 5, 4, 3, 2, 1 min with 1 min rest
Have monitor on watts screen.
Row at 60-100 percent of your body weight in pounds, depending on your fitness level.  26 strokes per minute on the work intervals, except 26-28 spm for the 1- and 2-minute pieces.
Cool down and stretch
Workout time total: 45-50 mins depending on cooldown length.
Here's 2 You Version 2
2222m row
22 pushups
22 lunges or TRX sprinter's start knee-up (left and right count as two)
22 jumping pull-ups or TRX muscle-ups
22 sit-ups
2222m ski
Repeat exercises in reverse
2222m row
Repeat exercises in order
2222m ski
DONE!
Firecracker Fourth Workout (7-4-18)
Warm up for 10 min – stretch
Set erg or SkiErg monitor for 7418m
And GO!
Or…..
Set monitor after warm up for Intervals:Distance, 500m row/ski with unlimited rest
Then do:
7 – burpees
4- pull ups
18 – pushups
4-7 rounds for time
2-1-5 GO ROW!
Warm up, then do two rounds (more as needed to meet your meter target) of the following:
Row 2000m
20 push-ups (or TRX Training chest presses), 20 kettlebell swings
Row 1000m
10 push-ups, 10 KB swings
10 sit-ups, 10 TRX mountain climbers or bicycle crunches
Row 500m
5 pull-ups, 5 burpees
Strokeplay
Warm up 5 minutes
Set monitor to Intervals>Variable and do 6 – 10 rounds of:
1000m row, alternating easy to hard every 100 meters, rowing 22 spm on the easy and 26 spm on the hard
1 minute rest
Easy paddle cooldown, 5 minutes minimum
Dueling Flywheels
6 x 1k alternating Row/Ski, with 1 minute to switch machines. On both machines go at a steady-state, challenging pace.
No SkiErg? Sub in run or bike for the time it takes you to row 1K.