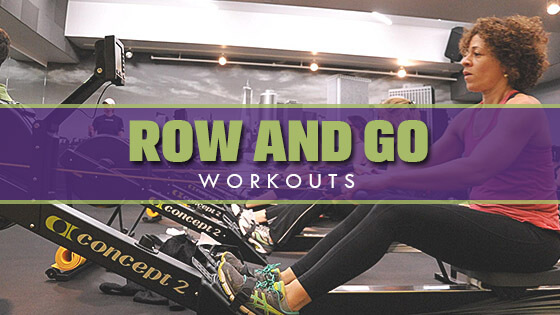 Updated August 27, 2020
Short on time but still want to sweat? These workouts will get you in and out in about a half-hour or less. Always make sure to warm up properly before beginning these, particularly any shorter workout where you want to be ready to go as soon as you start the clock!
Nasty Nines
From the Rowing + Bodyweight section of 101 Best Rowing Workouts
Perform as many rounds as possible in 20 minutes of
1000m row
9 mountain climbers
9 squat jumps
9 push ups (do the push-ups on a sturdy or a wall if needed) 
Row-along with this workout on YouTube!
Just row #1
Row intervals of 1-2-3-3-2-1 mins. (total 6 rounds), with the same amount of rest on each round.
Start each round with a few short strokes to get going and build to your rating. Each piece (interval) should be done at 80 percent of your max: You can talk but you'd rather not. Stroke rating 24-30 strokes per minute.
Use how you feel to determine what stroke rating to hold, your goal is to maintain the same split within about 5 seconds on each round.  If you find you can't talk, you're going too hard!
Make it easier: Back off on the intensity, or lower your stroke rating
Make it harder: Work to take 5-10 seconds off your split on each round
Total time: 24 minutes plus your warmup
Basic Blast
Row/SkiErg/BikeErg or alternate 5 minutes
In between each cardio interval do:
10 kettlebell swings
10 sit-ups
10 push-ups
10 air squats
Repeat until you have completed two 5-min rows and skis.
This is a great workout to partner on, too.  In that case one partner does one machine while the other does another, then you switch or rotate through.
AMRA(M)P IT UP
AMRAP 15 mins (after a good warmup)
Row 4 mins
9 DB snatch (do 9 left then 9 right)
9 med ball sit-ups
NOTE: The shorter the workout, the longer the warmup.  You should have a good sweat rolling before you begin this one.
5-4-3-2-1 Blastoff!
500m, 50 air squats, 50 sit-ups
400m, 40 air squats, 40 sit-ups
300m, 30 air squats, 30 sit-ups
200m, 20 air squats, 20 sit-ups
100m, 10 air squats, 10 sit-ups
(Courtesy of CrossFit Alexandria and Certified Instructor Trayce Snow)
Five for Fighting
Row 5-4-3-2-1 minutes
In between do 15-12-10-8-5 reps of the following:
Sit-ups
Dumbbell snatch (l/R = 2)
Squats
Push ups, or push press (or sub 3 wall walks each round)
KB swings
Done!
Dirty Dozen
15-min cardio warmup of your choice
Four rounds for time of:
12 pullups (do them jumping or with assist if needed)
12 weighted walking lunges
12 dumbbell rows (from the pushup position)
DONE!
This BodyGO Row workout comes courtesy of Concept2 Approved Indoor Rowing Instructor Laurie Miller of CrossFit Wise: Training For Life in St. Louis. Once you've warmed up this workout takes only 18 minutes, and can even be cut back to 12 or 15 minutes.
Grab a stopwatch because you will be completing as many as six, 3- minute consecutive intervals of:
30 bicycle abs
15 kettlebell swings
and then row for maximum meters (@ 24-28 spm) until the end of the 3 min interval
Repeat this cycle through the six rounds (or your chosen target)
Record your meters in case monitor shuts down during exercises, or go back into your memory and retrieve them when you're done.
March Madness
1000m row warmup
Then do 3-4 rounds of:
30 push-ups
30 strokes on the Concept2 SkiErg (or substitute pull-ups)
30 squats
30 sit-ups
300m row
Done!
Workout #1
Warm up, then row 5 minutes at 75-85 percent intensity (you can talk but you'd rather not) followed by 5 pull-ups or 10 push-ups PLUS 10 jump squats or 10 lunges. Do at least 4 rounds.
Workout #2
Warm up for 10 minutes
Row/Ski 1000m
10 squat jumps
10 lateral lunges
10 sit-ups
10 jumping pull-ups
Row/Ski 750m
8 squat jumps
8 lateral lunges
8 sit-ups
8 jumping pull-ups
Row/Ski 500m
6 squat jumps
6 lateral lunges
6 sit-ups
6 jumping pull-ups
Cool down, stretch and done!
Workout #3
Warm up 10 minutes, then four rounds of:
Row 2 minutes at 26 spm
1 minute paddle
Row 3 minutes at 26 spm
2 minute paddle
Stretch and done!
Note: Scale this workout to three rounds if needed to meet your schedule, or add rounds if you'd like a longer workout.
Workout #4
Warm up, then set your rower monitor for Intervals>Variable>Time, with intervals of 1,2,3,4,3,2,1 minutes, with undefined rest. After each interval ski as many meters as you rowed, in however much time it takes you.
Stretch and done!
Workout #5
Row 2000m
20 push-ups (or TRX Training chest presses), 20 kettlebell swings
Row 1000m
10 push-ups, 10 KB swings
10 sit-ups, 10 TRX mountain climbers or bicycle crunches
Row 500m
5 pull-ups, 5 burpees
DONE!
Workout #6
Row a Minute!
Warm up well, with 10-20 minutes of easy rowing or other cardio
Set your monitor for a minute of work and unlimited rest.
Row rounds of 1 minute on, rotating with 1 minute of these exercises in any order you like: jump rope, push ups, power jacks, burpees, mountain climbers, sit ups, lunges, 20′ shuttle run, box jumps.
No rest, just keep moving!
Workout #7
This is especially good if you can mix in a SkiErg, but it can be done with the rower alone, too. Warm up with your choice of cardio, then set your monitor for Intervals>Time, with 4 mins of work and unlimited rest (or 2 mins of rest if your monitor doesn't have the unlimited rest feature).
5 rounds of:
Row or ski 4 minutes (alternating if you have both)
10 pushups
20 situps
If you are doing the 2-minute rest version, add reps to the floor work if needed to complete the two minutes.