Indoor Rowing: For People of All Ages, Sizes and Abilities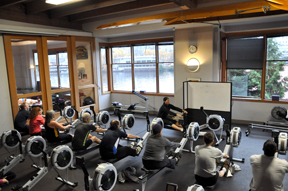 The sport of rowing, whether indoors or on the water, is rightfully acknowledged as being one of the best total body workouts there is.
Highly flexible in its intensity but always low-impact on the body, working out on an indoor rowing machine has become one of the fastest-growing trends in the fitness industry.  Rowing meets you wherever you are in your fitness journey, and will take you as far as you want to go.  UCanRow2 offers indoor rower and SkiErg programs and products that allow people of all ages, sizes and abilities to share in the physical and mental benefits of a workout that is safe, fun and effective.
Why row?  With every stroke you are working every major muscle group, as well as your heart and lungs.  Your upper and lower body, core and joints all benefit from the smooth, full range of motion.  Your mind is engaged and centered as well, and stress is eased as you settle into the rhythm of each stroke. Contact us if you'd like to see what rowing can do for you, your group or facility.