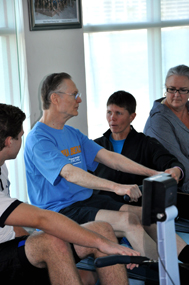 If you're a home or gym user of the Concept2 rowing machine, we've got something new coming just for you: A half-day training that will get you tuned up and ready for new (or renewed) action on the world's #1 indoor rower!  The workshop is part of our Flywheel Frenzy event at Owens Community College in Toledo, OH on April 12-13.
Join us for Indoor Rowing Foundations for Home Users from 9 a.m. to 12 p.m. on Friday, April 13.  You'll spend a comprehensive morning tuning up and learning new ways to make the most of the Concept2 Indoor Rower.  We'll focus on:
– Optimizing your rowing technique, including personalized video critique
– Showing you how to keep your machine in tip-top working order
– Showing you new things you can do with the monitor
– Giving you a slew of new workouts, and
– Taking you on a tour of the Concept 2 website's resources.
– Bonus: Meet the SkiErg!
Registration for the course is $95.  Just note your course and fee on the registration form.
Want more?  Join us the night before for a master class with Concept2 Master Instructor Terry Smythe from 6:30-8:30.  You'll spend two hours in OCC's fitness playground, combining the rower, SkiErg and indoor cycling with other equipment like TRX and free weights.
Register now: $45 ($15 for students) Note your course and fee on the registration form.
And for those who are teaching others or working with clients  on the rowing machine, we're offering our Programming Intensive on Friday afternoon from 2-5 pm.  We'll show you how to set yourself apart from the competition by mixing up your workouts with on/off erg work. Combine ergs, TRX straps, free weights and more to create a fat-blasting workout your members will rave about.  Have your rowing technique checked by an expert.  Learn how to use social media to get people into your classes – and keep them there.
Registration fee: $115
Here's the location for the course:
Owens Community College Toledo Campus
Alumni Hall
30335 Oregon Road
Perrysburg, OH 43551
Questions?  Post them to the comments.