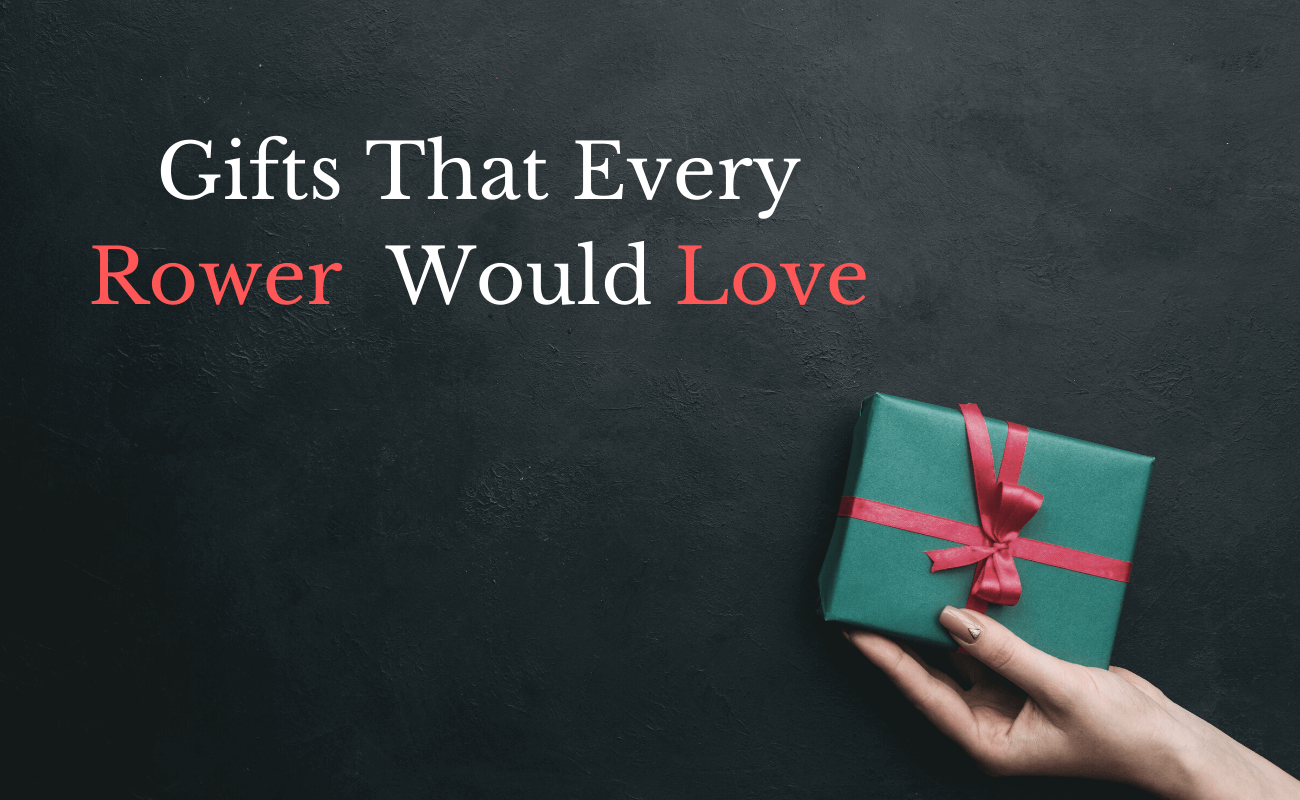 If you're like us, you're always on the lookout for the best gifts for rowers. We can be hard to buy for!
If you've got a rower on your gift list you know what a challenge it can be to find things they'll love. You have YOUR favorite seat pad or pair of erging shoes, but what if your gift-ee doesn't roll that way?
Ah, the struggle is real!
Have no fear, we're here to help! We've put together a list of some of our favorite indoor rowing and rowing-related products to help you the next time you need the perfect birthday, holiday, or anniversary gift. UCanRow2 rower tested, and approved!
Scroll on down for the list. Check back often, too. We'll update this list with new products as we get a chance to test them and love them.
Happy gifting!
Best Gifts for Rowers
ROWING JEWELRY
We asked our friends at Rubini Jewelers to make us some special pieces that would celebrate the indoor rower on your list. We're biased, of course, but these are some of our favorite gifts for rowers!
1.
Erger Pendant
This raised, sterling silver pendant is another UCanRow2 exclusive design. Make your allegiances known to the world: Shout it from the rooftops, "Indoor rowing is MY sport!"
2.
Erg Flywheel Post Earrings
These iconic, classic circle stud earrings are a must-have! Designed for us exclusively by Rubini, these sterling silver, flywheel-inspired earrings are subtle, but will catch the eye of all your erging friends, who will instantly be in on the joke.
Want them as dangles? Or cufflinks? Rubini can do that too! Drop them an email at info@rubinijewelers.com and ask. Tell them we sent you!
3. Erging Rower Brooch
This intricate brooch is crafted with quality sterling silver will be a finishing touch for all rowing lovers.
SNAX!
4.
Erg! Bars
Could there be a more perfect snack for an indoor rower?? We think not!
Bonus, these energy bars taste delicious! They're also minimally processed and nutrient-dense, pretty much the perfect snack for your next Hour of Power erg session.
12 flavors to choose from! (A favorite: Apricot P'Butter.)
GEAR
It's so hard to pick a favorite here. We love so many fitness apparel brands (Athleta especially!), but the gear from JL Athletics that's made by rowers, for rowers, is hard to beat. Here are our go-tos.
6. Compression Wick Trou
Moisture-wicking compression shorts are our go-to shorts. Basic but super comfortable, durable and affordable.
We LOVE Athleta tights too, but these last better than anything.
7. The Fat Ergos Collection
If the erg is your jam, is there really any other way to play? We especially love these shorts that are festooned with ergs (especially because the seat is double-lined to protect your back end during those long erging sessions). They've got other styles, too, including unis. Dress it up for your next 2k race!
8. Vertical Houndstooth Comfy Tights
These tights are so comfy; you won't want to take them off.
Perfect if you row in the garage or anywhere else that's chilly.
High-performance knit with a cotton-comfy stretch is designed for comfort and durability.
9. Women's Polyrpro Erg Trou
Dreaming of a longer erg short with a yoga-style waistband (no drawstring)?
You'll love this soft and flexible construction.
10. Tablet Mount for Indoor Rower
If you know a Concept2 rower who likes to watch movies or do online workouts while they row (or BikeErg), this might be JUST the thing to put under their tree!
No more propping the iPad up on a random collection of boxes and books and hoping against hope it doesn't fall over on your next power 10!
Need other ideas?
A stocking stuffer, perhaps, or a small thank-you gift? Our certified instructors are FULL of great ideas!
AirPods for wireless rowing
Phone cradle for Concept2 monitor
Deep blue essential oil rub from DoTerrra for sore muscles
Tower fan so you can row with a breeze
Rock My Run music app subscription
Wod & Done thumb protection tape for long rows
3-in-1 oil and a fresh rag for chain oiling and other maintenance
Batteries for the monitor
Cycle by Body Glide to prevent chafing on long rows
Microfiber cloths for erg and sweat cleanups
Spray bottle of glass cleaner to wipe down the erg. antibacterial clothes for the handle and seat
What did we miss?
What's missing on this list that you can't live without, and we shouldn't either? Drop it in the comments below and maybe we'll add it to the next update!