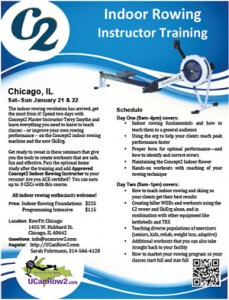 After getting more requests than we can even keep track of, we're starting 2012 off right, bringing indoor rowing instructor certification back to the Sunshine State!  Our host will be Rowland Rowing Studio in Juno Beach (Palm Beach County).
The master instructor for the full-day training on Feb. 25 will be UCanRow2's Terry Smythe, a former US national team rower with more than 30 years of indoor rowing experience.  Other workshops on the books include Chicago (at RowFit Chicago) on Jan. 21, Montclair (NJ) High School on Jan. 28 (with Master Instructor Chad Fleschner) on Jan. 28 and Woodbridge, VA (at Gold's Gym with Master Instructor Angela Hart on March 23.
Check here for our training calendar updates, to learn more about our indoor rowing instructor training opportunities or to register for a workshop near you.
We're planning on bringing trainings to many other new locations in 2012, so contact us if you're interested in hosting or would like to see a workshop your area.  Hosting is a great deal for facilities – you get a free registration with every eight paid participants, plus you save on travel costs to send your instructors to other cities.
All we ask in exchange is that you help us get the word out to your local network.  We'll provide a promotional poster and anything else you need, including cool photos of other trainings that you can use on your website if you like.