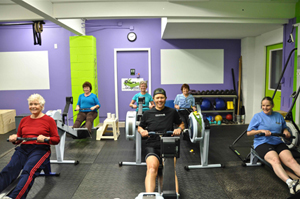 There's been a veritable media frenzy of coverage lately of indoor rowing, which once again is enjoying a well-deserved and long-overdue day in the sun.
The latest to jump on the bandwagon is the Huffington Post, which launched a shot over the bow of indoor cycling: "Watch out, stationary bike. Across the country, boatloads of people are dipping their toes into the water (sorry), resulting in a surge of indoor-rowing classes."
As it should be!  Spinning is great, but it can't hold a candle to the total-body benefits of an indoor rowing workout, which as the HuffPo points out can burn over 800 calories in a one-hour workout.   Non-impact, total-body for people of virtually every age and ability.  What's not to love?
If you're ready to try indoor rowing we've got a list of certified instructors throughout the United States (including Puerto Rico), Canada and soon to be Australia where you can find the instructors and personal trainers who will put you through your rowing paces in a workout that will be safe, fun, efficient (the 2-hour workout is SO 2005) and effective.
Got a favorite instructor?  Give 'em a shout-out here!
Related articles