Indoor rowing is hotter than ever! Awesome, but where do you begin if you're just getting started with the sport?  And what about if you're ready to ramp it up? We asked Natalie Dell O'Brien for her thoughts.  She ought to know, she was in the first boat ever to medal for the US in the women's quad sculls event, at the London 2012 Olympic Games.  Check out her story, and some suggested rowing workouts: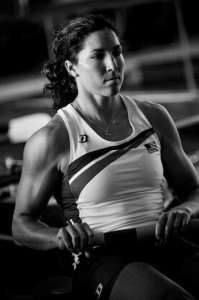 In high school, I was athletic but uncoordinated. Aggressive and powerful but clumsy by nature, I could run the basketball court all day but missed the majority of the shots I took. During soccer, the more nimble girls could easily place the ball in the top corner of the goal while I jumped out of the way as it came whizzing by.
I started running and hitting the weight room. A strange combination, but they were simple tasks and I excelled.  Repetition and power were my strong suit. As I shipped off to college, I sought out a sport that combined the repetition of running with the power of the weight room. When I tried out for the rowing team my freshman year, it was love at first sight. Eight years later, I made the Olympic rowing team and won a bronze medal with my three boat mates.
No matter how much experience I gained in the sport, it was never easy – which is what makes rowing such an incredible, character-building exercise. There's always a different technique to learn or a new twist on a workout to try.
Whether you've been on the rowing machine for years or are giving it a shot for the first time, don't be afraid to try something new. Here are a few rowing workout plans to get you started but before attempting, make sure you check with an instructor (preferably a certified instructor) on the correct rowing technique. This is a must!
1)    2×20 "steady state" at 20-22 strokes per minute, 5 minutes rest:  While training with the national team, most of our time was spent building our base fitness. This involved a lot of long, steady workouts on the rowing machine. These types of workouts, while not "all out," strengthen your core muscles and increase your fitness. Stay at a low stroke rate and focus on your technique and breathing. How hard should you go? Easy enough that you can talk to your workout buddy if you need to, but hard enough that you're breathing heavy in between your words. If you're not ready for a full 40-minute workout on the rower, no problem. Just work your way up by starting with 2×10 minutes or 2×15 minutes.
2)    1 minute on, 1 minute off x 15, at 26 strokes per minute: After warming up for 10-15 minutes, start off by doing the first 2 or 3 minutes at a 24, working up to a 26 by the fourth minute. The minute "on" should be at 80% of your maximum effort (so, make sure you're not going 100% max effort). The purpose of this workout is to get comfortable with going harder without losing your technique. Feeling ready for a bigger challenge? Add on a second set of 15 minutes, after taking 5 minutes rest after the first set.
3)    4×1,500 meters, starting at a 24 and increasing 2 strokes per minute every 500 meters, 5 minutes rest: You've had a few steady state workouts under your belt, now you're ready to bump that heart rate up! This one will do the trick. After a 10-15 minute warm-up, set the monitor for 1,500 meters and start out at 24 strokes per minute. When you cross the 1,000-meter mark, ease your stroke rating up to 26 strokes per minute. And as you come into the last 500 meters, give it another bump to 28. The key? Pacing and technique. As your stroke rating comes up – along with your heart rate – stay focused on maintaining your technique. Don't forget to record your time so that you can monitor your progress next time!
Try these 3 indoor #rowing #workouts from Olympian @NatalieDellOB #ucanrow2
Click To Tweet
Remember, always keep an eye on your technique as you introduce harder and harder workouts. Challenge yourself to focus on what your body does, even as your heart rate climbs higher through the workout.  Ready to row? Grab a friend and head down to the studio, boathouse or gym!
Natalie Dell O'Brien is a former national team member and competed on the 2010, 2011 and 2012 USA Rowing Teams. She and her teammates won a bronze medal in the women's quad sculls at the London 2012 Olympic Games.
Happily retired from elite athletics, Natalie now lives in San Francisco with her husband Conor and is a public speaker and social marketing strategist in the tech industry in Silicon Valley. You can follower her on Twitter at NatalieDellOB.
Try these, and then let us know your favorites.  Got a favorite workout you'd like to share?  Post it in the comments!  Want more rowing workouts?  We've got those too!  And don't miss Natalie's Ted Talk about the value of losing.  Great stuff! 
Related articles