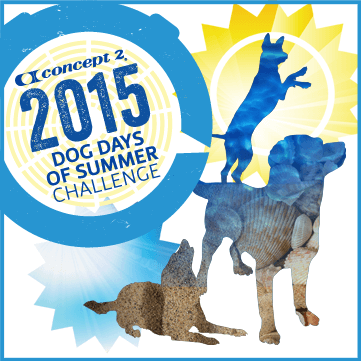 The Concept2 Dog Days of Summer Challenge has begun!  This one starts out easily, with a goal of only 10,000 meters total skied or rowed in the whole week.  Easy peasy compared to the 40,000-meter target you have to hit in the last week of the month.  As with all of Concept2's online challenges, it's a good idea to have a strategy for how you're going to approach the month.
Intrepid rowers/skiers and long-distance/rowing endurance fans may like to hit the goal all at once.  And really, why not try a marathon or half-marathon during the month if you've got a good base?  This is also a challenge that lets you count your on-water or on-snow meters, so if that's an option for you definitely take advantage … and send us pics!
But if you're a rowing instructor with classes to teach or you like more variety in your SkiErg and indoor rowing workouts, try splitting up the distance over several workouts.  Here are a couple of sample workouts we've done at the UCanRow2 Bodyshop during the first week of the challenge.  Obviously you can increase the distances or add more workouts to meet the goals of subsequent weeks.
Let us know what you do, and we'll share more of ours, too!
Workout #1
Row, SkiErg or mix 3 rounds of 1112 meters (use the undefined rest feature on the monitor)
In between do:
15, 12, 10 reps of:
Dumbbell rows
KB cleans
Mountain climbers
Workout #2
Row/Ski/Mix 4 rounds of 834 meters (with undefined rest)
In between choose 3-4 of the following exercises, and perform them in descending reps:
12, 10, 8, 6 reps of:
Push press
Tire flips/wallballs
Squats/lunges
TRX sweeps
Sit-ups
200m run
What's your challenge strategy or fave workout? Tell us in the comments, we'd love to share it with the world!