The efforts of UCanRow2's Terry Smythe to make rowing on an indoor rowing machine an official Special Olympics sport has drawn the attention of Special Olympics Michigan officials.  In a story summarizing indoor rowing at this year's Special Olympics Michigan Summer Games the Daily Mining Gazette featured the progress that has been made in the three years since Terry began working towards that goal as part of her role as fitness director for Aspirus Keweenaw Hospital.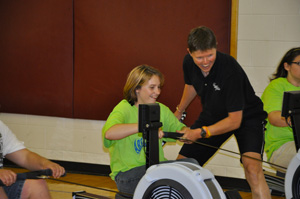 While it is a lengthy process, Terry is confident the goal is attainable.  The first step is for rowing to become an official sport of Special Olympics Michigan, where indoor rowing as been a demonstration event since 2007.  The next step is to present a report to Special Olympics officials summarizing the results of the last three years, with the goal of making indoor rowing an official sport in the Michigan Special Olympics.  After that Terry hopes to use that as a precedent to expand the sport to the national Special Olympics level.
"The country really looks to Michigan for their Special Olympics program," she said in the Mining Gazette story.
At the Michigan summer games at Central Michigan University hundreds of children of all ages filed through a room equipped with Concept 2 rowing machines to try their hand at rowing 500-meter races against their fellow competitors.  The competitors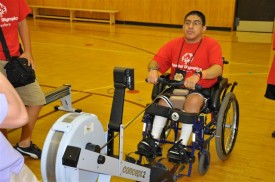 were able to race in virtual rowing shells projected on a huge screen set up in the race venue.
Making rowing on a rowing machine an official sport of the Special Olympics would help bring the activity to a broader group of people, Terry said, in addition to raising the standard of excellence for training and performance, which would help advance the sport generally.
The rowing machine is particularly well-suited to Special Olympics athletes because it is fully accommodates each athlete's level of fitness and ability, while providing a fun and challenging workout.  Athletes return to the rowing venue year after year because they enjoy the special combination of rhythmic synchronicity and physical challenge that the sport of indoor rowing offers.