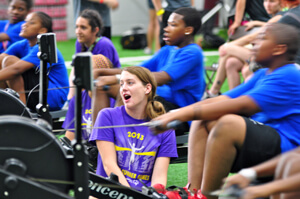 And they're off! For the 7th straight year we are rowing with the athletes of the Special Olympics Michigan Summer Games. We work a lot of different trainings and events through the year, but this one, and its winter counterpart, are among those we look forward to the most.
As it is for most people, indoor rowing for people with intellectual disabilities is one of the best fitness activities there is. In addition to rowing's non-impact, total-body fitness benefits, Special Olympics athletes are often drawn to the sport's rhythmic stroke and the Zen-like sound of flywheels in motion.
And then there's the competition! Over the course of two days, hundreds of athletes row 500 meters (2-3 minutes) on a Concept2 rowing machine. The fastest times win a special UCanRow2 rowing medal.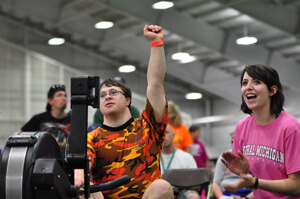 As far as we know Michigan is the only state that regularly offers demonstrations of indoor rowing at both its winter and summer games (If there are others please let us know!).
We'd like to see the sport grow to other states and countries' Special Olympics, and maybe even be an official sport of the games one day.
Want to get a taste of what the indoor rowing competition is like? Check out our video from the Winter Games.
If any of this sounds appealing we strongly encourage you to volunteer for your local Special Olympics. The smiles, hugs and high fives are worth their weight in gold. Do you have a Special Olympics experience to share? Love it! Post it to the comments below and tell the world.  Can't get enough of the photos?  Check out more in our photo album!