Products and Services

Are you looking to purchase a fleet of Concept 2 rower machines or SkiErg cross country ski machines for your fitness center, school or other facility, or is it time to put one or both machines in your home?  Would you like a custom or private training for you or your facility, help with programming or support to market your organization or your indoor or on-water rowing programs?  UCanRow2 is here to help with all of it.  Learn more below.
Buy a Concept2 Indoor Rower or SkiErg
Programming and Marketing Services
Custom/Private Trainings

Buy a Concept2 Indoor Rower or SkiErg
Concept2 Rowing Machine


The Concept2 rowing machine is the world's best-selling rowing machine for a reason.  With unrivaled function, durability, customer service, and post-sale support, Concept2 Indoor Rowers are the machine of choice for people and athletes of all ages, sizes and abilities.
The rowing machine comes in Model D and Model E versions (compare the two) and with either a PM3 or PM4 monitor.  Discounts may be available for group or volume purchases.  Ask us!
Pricing:
Model D with PM3: $900 plus tax and shipping
Model D with PM4: $1050 plus tax and shipping
Model E with PM4: $1260 plus tax and shipping
Buy: Contact us to purchase equipment
Concept2 SkiErg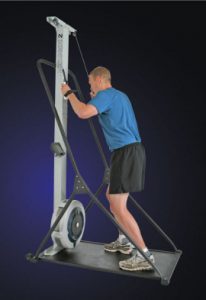 The SkiErg is the latest addition to the Concept2 family of ergometer-based training machines.  Built to simulate double polling in cross-country skiing, the machine offers benefits not just to skiers but to anyone who is interested in zeroing in on their upper body, including trouble spots like the triceps and abs.
The Concept2 SkiErg is based on the same mechanics and electronic monitoring systems as the Concept2 Indoor Rower, the proven choice of rowing athletes around the world since 1982.  Like the rowing machine, you set the resistance based on how hard you pull, so it automatically adjusts to your fitness level and the intensity of your workout for that day.
The SkiErg is available with either a PM3 or PM4 monitor, and with or without a platform, depending on whether you want to be able to move the machine around or keep it fixed and wall-mounted.
The SkiErg features:
Smooth pull with a quick return
User-controlled intensity
Adjustable handle straps
Air-resistance flywheel: the harder you pull the more resistance you feel
Pricing
SkiErg with PM3: $730 plus tax and shipping
SkiErg with PM4: $880 plus tax and shipping
Optional Floor Stand: $230 plus tax and shipping
Questions? Contact sales@ucanrow2.com
Buy: Contact us to purchase equipment
Programming and Marketing Services
UCanRow2 offers a variety of services to help you make the most of your Concept2 indoor rowers and SkiErgs, or to start and promote rowing and skiing programs at your facility.  From training your instructors to properly use the equipment and motivate exercisers, to designing customized programming for group exercise, personal training or special audiences, UCanRow2 can help.
Rowing Programming Services
Trainer certification
Group exercise and personal training instructor workshops and program development
Cross-train with the rower, SkiErg, free weights, TRX suspension strap, kettlebells and other equipment
Program development for special populations
–  Kids
–  Seniors
–  Adaptive
–  Obese/Weight loss
–  Sport-specific training (triathletes, etc.)
–  Rehab/post-rehab
Indoor rowing/SkiErg program startup
–  Program development
–  Equipment setup
–  Learn-to-row and master classes to introduce members to rowing
–  Marketing and promotion
Custom/Private Trainings
Picture this: You've just bought rowing machines or SkiErgs for your facility and have a staff of people you need to train to use the machines.  Or you work with a very specific population (for example medical fitness, seniors, kids, overweight exercisers) and want your instructors to be able to target their workouts to these groups and be ready to handle any specific issues that might arise.  Consider having UCanRow2 set up a one- or two-day training for your group of eight or more.*
Benefits of custom training:
Savings in time and travel expenses to get your staff to an out-of-town training at the same registration fee as our open certifications
Content customized to fit the needs of your group and the populations you work with
A chance to spend a day with a Concept2 master instructor who is focused on you and can answer specific questions about working with various client populations, workout programming and layout of the rowing/skiing workout space in your facility.
To learn more or schedule a training Contact Us.
*The fine print: Trainings must have at least eight paid registrants, in place at least two weeks in advance of the scheduled date.  Registrations are payable to UCanRow2 and cannot be resold.

Marketing Services
You've invested in the equipment, you've gotten your staff trained, now how do you make sure you get people in the door for your group exercise classes or personal training sessions — and keep them coming in?  You know you need a social media presence but you have no time to set it up, much less manage it.  We can help!
UCanRow2 can support your marketing – or handle it for you — with a full range of services that will help you reach new people looking for your programs and keep your existing students engaged even outside of class.
Services include:
Rowing program marketing strategy development, including integrated online and offline plans
Web content creation and optimization (Web sites, online news releases, blogs, blog posts)
Web discussion monitoring
Social media campaign development, implementation and management (Facebook, YouTube, Twitter, Google+ etc.)
Video optimization
Search engine language analysis and optimization
Print brochure and flyer development
Contact us for more information!