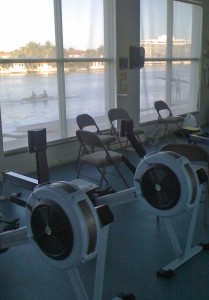 Rowing machines and rowing shells converged this past weekend when UCanRow2 led the first indoor rowing instructor certification at Miami Beach Rowing Club.
Participants representing crews from the University of Miami and Barry University, joined with home users and an aspiring elite competitive rower for a day with UCanRow2's Terry Smythe learning the ins and outs of indoor rowing.
The session included individualized critiques of rowing technique, discussion of the best ways to teach on the Concept 2 rowing machine, critical tips for erg maintenance and pointers for teaching to special populations.  The participants also got to try several rowing workouts first hand, including interval, steady state and pyramid formats.
As indoor rowing grows in popularity and people look in increasing numbers for fitness facilities offering the sport, certifications such as the one in Miami will become an important distinguishing factor.  Those locations whose instructors are certified will stand out as offering classes and personal training sessions that are safe, fun and effective.
More trainings are planned around Florida and elsewhere in 2011, for more information on those or other locations visit the UCanRow2 instructors page.
Wondering about certification?  Leave a comment and we'll answer your questions here.  Are you a certified Concept2 rowing instructor?  Did you find it valuable?  Let us know!