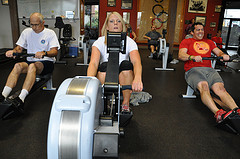 We often hear people say they go into the gym with a goal of burning X calories on the cardio equipment, be it on the treadmill, rowing machine, elliptical or in a CrossFit WOD.  And we often tell them, that's great, as long as you're a 5'10", 150-lb. man.  If not, you're probably getting inaccurate information.
According to an article from the Huffington Post, research at San Francisco State University has (re)confirmed the unreliability of calorie monitors on exercise machines, and says they can be as far off as 25 percent.  The story quotes Mark Gorelick, Ph.D., assistant professor of kinesiology at San Francisco State University says that if you're desperate to know how many calories you're burning in a workout you're better off using one of the products you can wear on your body (like FitBit or Bodymedia Fit), which are more accurate because they use many more parameters to calculate your calorie burn than a cardio machine monitor.
In our experience, though, wearable monitors are notoriously finicky about calculating calorie burn and effort in a cycling or indoor rowing workout, just as they are about calculating "steps" taken in a workout.  Our advice, ignore the monitor on the machine and use the wearable monitor if it's a motivator, but use the sweat on your shirt and the fit of your clothes to help you track your fitness progress – not the readout on any machine.