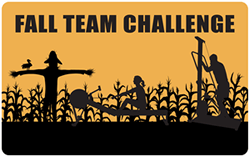 The Concept2 Fall Team Challenge has begun!  From now until Oct. 15th, join or create a team and row as many meters as you can.
We have lots of meter munching SkiErg and rowing workouts and will be posting more, but here's one we did to kick it off.  Lots of meters, plus variety, and a GREAT sweat.
Warm up well, then do the following:
10 minute row or ski
1-5 dumbbell snatch pyramid
10 pushups
8 minute row or ski
50 sit-ups
15 air squats
6 minute row or ski
Run 450 meters
15 frog jumps
10 push ups
4 minute row or ski
10 KB swings
10 KB high pulls
10 KB cleans
2 minute row or ski SPRINT
DONE!
Be sure to record your meters in your online logbook, and if you need a team to row with we want YOU on Team UCanRow2!
Try this and tell us how it went in the comments – total time for the workout and your total meters, average splits if you care to share.  Got a favorite erg workout?  We want that too!