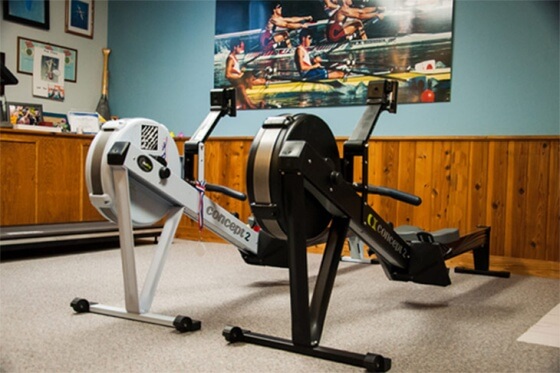 Last updated Jan. 29, 2019
Stuck at home with Polar Vortex 2019?  We've got you!  Whether you have a rowing machine at home or not, read on for workouts that will help you keep your sanity while you wait for the melt.
You can't make it to the gym every day, and let's face it, some days you don't even want to.  A home rowing machine workout is the answer.  It happens to us all at some point: It's snowing, raining, butt cold, broiling hot.  You've got a sick kid.  Or maybe you just don't feel like it.  We get it, we've been there.  Some days you simply need to get 'er done at home.
Much as we love them, you certainly don't need a formal rowing program at a gym (hopefully taught by a certified instructor) to get a great workout.  You can break a sweat and burn fat just fine doing a home rowing machine workout instead.
Workout excuses removed.  You can thank us later.
home rowing machine workout that works
Obviously we think the most awesome at-home workouts include the liberal use of a rowing machine.   But we also know that not everyone has that as an option at home, so we've included workouts that don't require a rowing machine.   Regardless of your rower/SkiErg access status, we've got you covered.
In all you've got a week's worth of bodyweight and home rowing workouts here.  That's enough to get you through the worst blizzard, kid flu or vacation.
Get free workouts like these, delivered to your inbox every week: SIGN UP
3 killer rowing machine + Bodyweight Workouts
Key term for all workouts: AMRAP = As Many Rounds As Possible (in the time prescribed).  Or as the most awesome Jen Sinkler is fond of saying: As Many Rounds As Pretty.  She's right, you know.  Form matters!!
Try these workouts and let us know what you think.  Got a favorite home rowing workout (or home bodyweight workout)? Share it with the world in the comments.  You can never have too many good workouts!
Workout #1
AMRAP 20 mins
Row 500 meters
9 push-ups
9 squat jumps
9 mountain climbers
9 jumping jacks
Workout #2
AMRAP 25 mins
5 v-ups
Row 1000m
5 sit-ups
Workout #3
5 Rounds
Row 500-750-1000-1500-2000m (Set up your workout on the monitor using Intervals>Distance with undefined rest if your monitor has that feature)
In between do: 21-18-15-12-9 reps of:
Air squats
Push-ups
Sit-ups
Supermans
4 favorite at home bodyweight workouts
Feel free to make these rower / SkiErg friendly by adding in a 1-minute row or ski to each round
Workout #1
Run in place 6 mins
100 push-ups
100 sit-ups
100 air squats
100 jumping jacks
Workout #2
5 Rounds
5 burpees
5 jumping lunges
5 squat jumps
5 jumping jacks
Workout #3
5 Rounds
5 push-ups
5 supermans
5 wall walks / 30-second plank with straight arms (be careful to wear shoes that won't mark your wall)
5 standing broad jumps
5 lengths gator walk (plank position)
Workout #4

AMRAP 10-20 mins
5 pushups
10 air squats
15 situps
20 mountain climbers
15 lateral hops
10 jumping junges
5 hollow rocks (or other sit-ups)
Can't get enough?  Want something more systematic that includes done-for-you workouts and a workout calendar that tells you how to use them?  Check out our Meter Monster and Flywheel Frenzy workout programs.