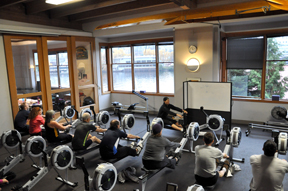 It was a big night of rowing last night on The Biggest Loser.  It's about time!  First the contestants had to row a 10k piece for their challenge, then the last chance workouts included a number of meters, too, most courtesy of recent CrossFit convert and Biggest Loser trainer Bob Harper.
This kind of exposure would be great for indoor rowing (although they should have been on Concept2 ergs) EXCEPT for two things:
1. The contestants' technique left a whole lot to be desired and in some cases was downright bad and potentially dangerous.
2. The rowing machine was portrayed only as a torture tool, even leaving one contestant panting on the ground with a medic looking over her.
Those of us who row for a living or for love or for fitness know that one of the great things about the erg is that it responds to you and your effort level: The harder you row, the more resistance; back off and the handle is easier to pull.  And it is one of the best exercises for weight loss.  There is no better workout for total-body non-impact cardio fitness that can lead to significant weight loss.
BUT – to get good results on the rowing machine you have to have good technique, and the best way to learn it is from a certified rowing instructor.  The basic rowing stroke is easy to learn but, like golf, the quest for the perfect stroke is eternal. And if you or one of your clients is overweight or obese it's even more important to do it right.  What's the quickest way to get there?  GET CERTIFIED!
What did you think of last night's episode? A good or bad thing for rowing?