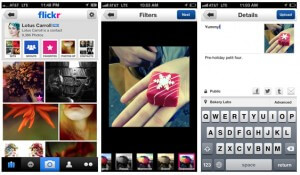 The New York Times says the new version of Flickr's iPhone photo app may well be a force to be reckoned with, and stiff competition for Instagram.  Flickr has long been THE place to post photos for Web optimization, but in recent months has lost some ground to hipsterish (for now) Instagram.
Where the Times says Flickr is aiming, though, and where it may well win in the end, is to be THE place to look at high-resolution photos.  If you're looking to promote your fitness business online you should have a
Flickr account
 anyway as it's an important place to get your photos seen and to drive traffic to your website, Facebook page, or wherever you've set up your online home (I still think it should be a website, but that's a post for another day.).
Just like Instagram, serious photographers might not want to use Flickr's iPhone app to display their best work (check out SmugMug's Camera Awesome as one option for that) but this is more about Web optimization than art.  And since both indoor and on-water rowing are such photogenic sports, those of us who love capturing them with a camera would do well to check Flickr's new offering out.
Do you use any of these?  What do you think? We'd love to see your favorite rowing and erging pics, too.  Post a link here!