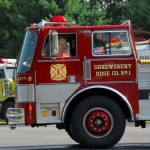 Things are slowly but surely coming back together in New Jersey after Superstorm Sandy's wreaked havoc across many areas of the Garden State in November.  It's been a rough road and continues to be one, but Navesink Indoor Rowing, which hosts our New Jersey Indoor Rowing Foundations trainings, is finally back up and running and ready to go.  YAY!!!
We're thrilled to be able to announce that our next indoor rowing cert in New Jersey is Saturday, Jan. 26 in Shrewsbury at Hose Co. #1's firehouse.  It's the perfect opportunity to either learn how to teach rowing (either to groups or for personal training) on the Concept2 indoor rower, or perfect your own technique and performance on the machine.  Have you been eyeing a PR on your next 2k? This might be just the place to up your game to get there.
To sweeten the deal we're donating a percentage of every registration to Sandy relief efforts.  Things are improving in New Jersey but there are still a lot of hurting families, we'd like to do our part to help out.  So you've got a chance to do something great for yourself and for the community on this one!  Jump in, this is going to be an amazing day!
Here are the specifics:
Training: Indoor Rowing Foundations
Date: Saturday, Jan. 26, 2013
Time: 9 a.m. – 5 p.m.
Location: Shrewsbury Hose Co. #1 Firehouse
783 Broad Street (Rt35), Shrewsbury, NJ 07702
Instructor: Chad Fleschner
Fee: $225
Register: Click this link
Join us, and if you've taken one of Chad's trainings in the past we'd love to hear your impressions in the comments!