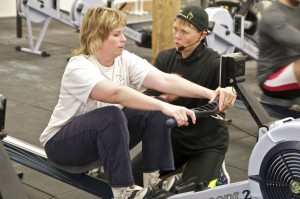 Do you have a Concept2 indoor rower at home, or use one at your gym?  Are you a competitive indoor rower who's interested in improving your performance on the machine?  Maybe you've been rowing for a while and would like to brush up on your indoor rowing technique or get new rowing workout ideas.
A new offering from UCanRow2 may be just the ticket: Personalized rowing technique reviews from anywhere in the world with a UCanRow2/Concept2 master instructor via Skype, video or in person.
"Often just a few simple tweaks to a person's rowing machine technique can make a major difference in the results they get – whether their goals are weight loss, fitness or a personal best in a 2k race," said UCanRow2's Terry Smythe, a UCanRow2/Concept2 master instructor.  "Not everyone is able to attend one of our full-day Concept2 Indoor Rowing Basic Course trainings," she added, "and not everyone wants to learn to teach indoor rowing.  We're excited to be able to offer this affordable, convenient alternative to people who want to row better and are not looking to teach classes."
Technique reviews will be led by a UCanRow2/Concept2 master instructor.  In addition to teaching the Indoor Rowing Basic Course trainings, the master instructors all have years of experience teaching people at all skill levels to row on the water and on the rowing machine.  Reviews can be done either via live video (Skype, OoVoo, etc.), by submitting a video clip of your rowing technique or at an in-person session where the master instructors are located (Currently Washington, D.C. area, Chicago, Seattle, Oakland, CA, and Houghton, MI, and coming soon to several other major US cities).
One-hour technique reviews are available for $65 and can be arranged by emailing info@ucanrow2.com.