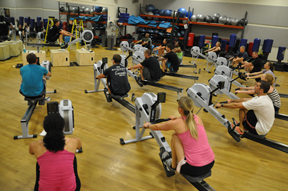 Music for rowing classes or a great rowing playlist is always a big topic of discussion around the UCanRow2 office and Concept2 instructor trainings.  We usually tell people to aim for workout music with little to no lyrics and relatively slow beats per minute, usually in the 120 bpm range or slower.  Indoor cycling music is often ideal for workout playlists, as long as it allows you or your students time to really focus on their rowing technique and not get so lost in the tunes that proper rowing form goes out the window.
All of that being said, sometimes you have a really long steady state workout in front of you, or you need a musical pick-me-up to shake off the day, or you just want to get your groove on.  For all of that, enter Rowing Journal, which has published a list of 90 minutes of erging tunes they love.  Beyond just giving you the list of songs, their Ultimate Erging Playlist goes into some detail explaining which songs you might put at which point in a workout, be it a 2k test or a steady state 10k.
Rowing workout playlists are, of course, a very personal thing but we love the thinking behind this piece … plus it made us laugh!  For example:
"First and Foremost: If it reminds anyone of the dance routines young Spice Girl wannabes made up at primary school then it is not
acceptable erg music. Ever.
"High ratings must always be accompanied by up tempo, heavy rhythm music, ideally Classic/ Hard Rock or Wagnerian Opera. There is
a feeling of invincibility as you complete your 2K PB to the inspiring sounds of Ride of the Valkyries!
"Rap has all the musicality of a ringing telephone and is easily dismissed from this discussion. In fact, the only R&B allowed is R Kelly's
World's Greatest."
Check out the whole article, it's great reading! For those of you who can't wait to reorganize your iPods though, here's the Rowing Journal list (Personally, we'd rather stick hot needles in our eyes than row to Livin' on a Prayer yet again, but there's something here for pretty much everybody):
Thunderstruck – AC/DC
Come Follow Me – The Answer
Party Hard – Andrew WK
Livin' On A Prayer – Bon Jovi
Layla – Derek and the Dominoes (Good Rhythm setter)
Sultans of Swing – Dire Straits
Fans – Kings of Leon
Jailhouse Rock – Elvis Presley
Smooth – Santana
Under Pressure – Queen
Baba O'Riley – The Who
Where The Street Have No Name – U2
Sunshine On Your Love – Cream
Peaceful, Easy Feeling – The Eagles
All Right Now – Free
Man's World – James Brown
Grace – Jeff Buckley
Mars – Holst Planet Suite
Jupiter – Holst Planet Suite
Ride of the Valkyries – Wagner
What's on your playlist for this weekend?  Tell us in the comments and we'll try it in class next week!