(Post updated March 7, 2023)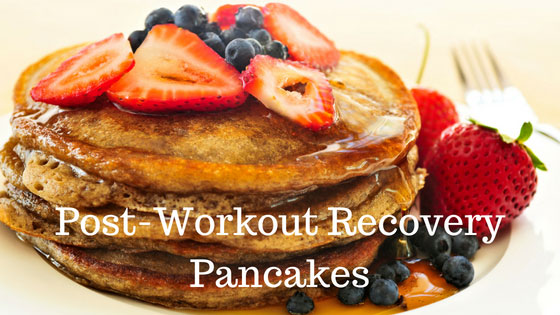 Post-Workout Recovery Breakfasts: Three Mouth-Watering Pancake Recipes
Are you looking for the perfect post-workout recovery meal to refuel your muscles and fill your belly after an intense workout?
Look no further than pancakes!
Whether you've just completed a workout like a grueling endurance row or long gym session, a delicious and nutritious meal is key to aiding recovery.
In this blog post, we're sharing three mouth-watering recipes for post-workout recovery pancakes that are popular in the UCanRow2 kitchen.
All of them provide a winning combination of carbohydrates and protein for optimal muscle recovery.
Before we dive into the recipes, let's take a quick look at why it's important to think about what you eat after a workout:
Why is post-workout nutrition important?
What you eat after your workout has everything to do with how well and how quickly you recover from it.
Good post-workout nutrition has loads of benefits actually. It can help you:
Feel less sore
Recover faster
Build muscle more readily
Build bone mass
Use body fat more efficiently
Build your immunity
Get that recovery meal in within two hours of finishing your workout if you can. That's when your body will be able to take the best advantage of the nutrients it offers.
What kind of workout requires a recovery meal?
If it's your usual 20-minute row, you probably don't need a special post-workout recovery meal.  Regardless of the intensity, your body likely has enough energy stores to recover fine.
Do pay attention, though, to what you eat after a longer workout like a 10k row, a half marathon, or a heavy interval or lifting session.
To put it simply, any workout longer than about 45 minutes deserves some attention.
Why are pancakes one of the best post-workout recovery foods?
Pancakes can be a great choice for post-workout recovery.
Why you ask?
Because they're a good source of carbohydrates, which give your body the energy it needs to replenish the glycogen stores that were used up in your workout.
Also, pancakes made with whole-grain flour (like the oatmeal cakes you'll see below) give you complex carbohydrates that are slowly digested and absorbed.
That can help keep you going through the rest of your day.
You also need protein post-workout! It's important for repairing and building muscle tissue that gets damaged during exercise (those micro-tears in your muscle fibers are how you get stronger. by the way!).
Pancakes can definitely fill that protein bill, too, if you include ingredients like eggs, milk, protein powder, or even cottage cheese.
What's your favorite post-workout recovery food?
For us, it's pancakes, please!
Make 'em with plantains
The first option, plantain pancakes, is grain, nut, and dairy-free, made with green plantains. It's a perfect recipe for paleo eaters and they're DELICIOUS.
We thank Certified Indoor Rowing Instructor Leeny Hoffman for pointing us to the plantain pancake recipe.
As a CrossFitter, cook, wellness coach, and mom, she's tried her fair share of Paleo/post-workout recovery pancakes in her time and says these cakes, which came from the Paleo Mom, were some of the best she's had.  We agree!
Make 'em with oatmeal
The second recipe, for more traditional oatmeal pancakes, comes from UCanRow2 Founder  Terry Smythe.  For years these pancakes were on her training table as an elite rower, and she later passed them down to her athletes on the Michigan Tech Crew.
Terry knew a thing or two about post-workout recovery!
Make 'em with chickpea flour (Really!)
Our third option, chickpea flour pancakes or waffles, comes from Chef Dawn Ludwig of the Always Hungry? eating plan.
These are not Paleo as they use chickpea flour as their base ingredient.  They are, however, delicious, higher in protein, and gluten-free since they contain no wheat.
They are also incredibly satisfying, freeze beautifully, and make your house smell amazing.  Truth be told, they're our go-to right now, served with berries on top and a little unsweetened whipped cream.
Regardless of your nutritional template, these post-workout recovery pancakes will give you the nutrients you need to rebound from that hard workout, without spending hours in the kitchen.
Whip up a batch in less than an hour (with leftovers to eat or freeze), maybe add some extra protein, such as plain Greek yogurt or a couple of eggs, and take on the rest of the day like you own it.
Which post-workout recovery pancake will you make first?
All of these recipes would be great to make ahead of time and grab on your way to the gym, so you can instantly start replenishing yourself in that golden post-workout recovery window of the first hour or two after your workout.
Give them a try and let us know what you think in the comment section below!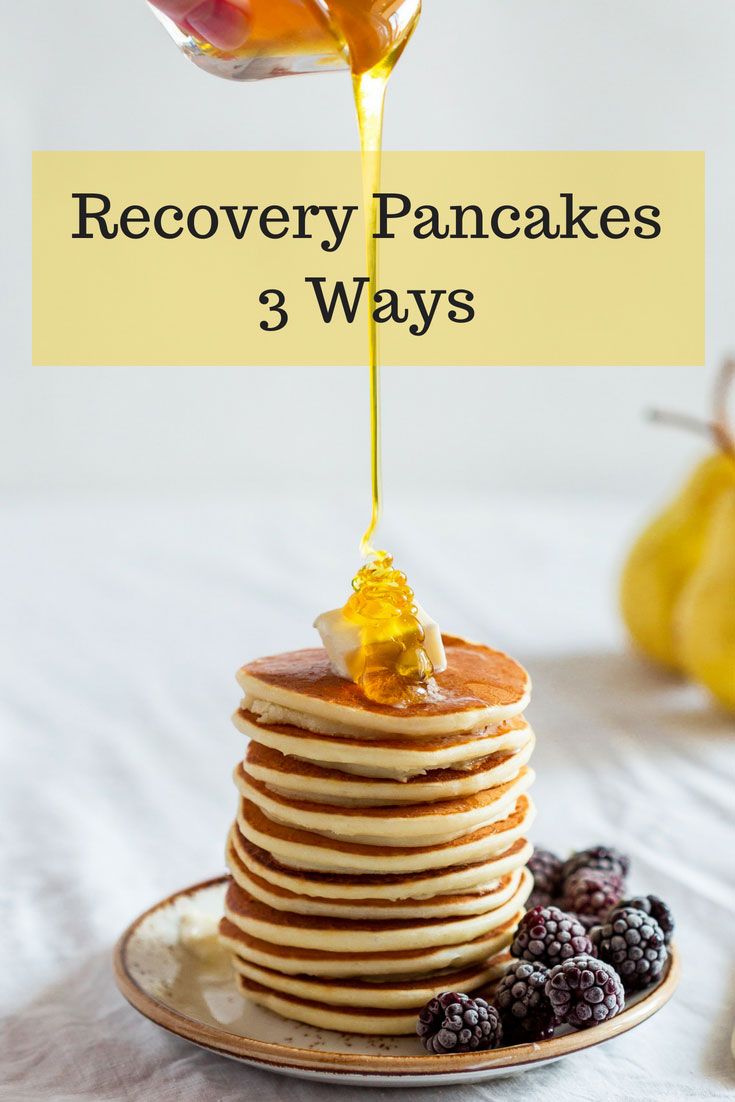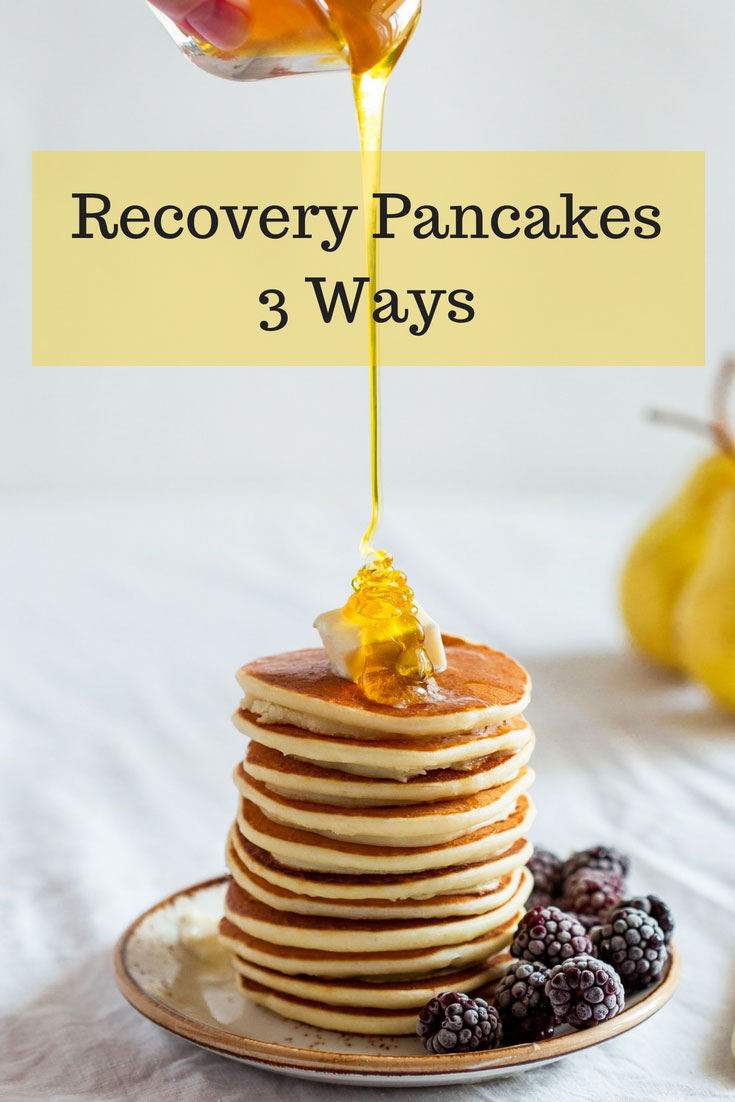 Post-Workout Recovery Pancakes: The Recipes
Green Plantain Pancakes (Paleo Version)
1 large green plantain (about 200g cut up without skin)
2 large eggs
2 teaspoons of vanilla  (I like Mexican vanilla)
1 ½ tablespoons of melted coconut oil
Pinch of salt
¼ teaspoon of baking soda
Peel plantain and cut into cubes. Place in food processor or blender and puree.   Add eggs, vanilla, coconut oil, salt and baking soda and continue to process until it looks like pancake batter.
In a small skillet, heat up a teaspoon more of coconut oil on med to low.  Add pancake batter and cook about 3-4 min on that side, until it is bubbly and starting to dry.
Flip over and cook about 1 more minute on the other side.  Enjoy with almond butter, pure maple syrup or honey.
Makes about three 7-inch pancakes.
Vermont Oatmeal Pancakes (Non-Paleo Version)
2 ½ cups of milk
1 ½ cups of rolled oats (uncooked)
1 cup of flour
2 ½ teaspoons of baking powder
2 tablespoons of sugar
2 eggs, beaten
¼ cup of oil
Pour milk over oats and set aside, let them stand for 5 minutes.
Sift together the flour, baking powder, and sugar, then add the eggs to the oat mixture.  Quickly mix in the remaining dry ingredients. Add the oil last.
For the best experience, top with real Vermont syrup.
Chickpea flour pancakes/waffles
(From Always Hungry? As printed in the Milwaukee Journal-Sentinel)
Makes 6 to 7 (6-inch) waffles

Ingredients
2 cups chickpea (garbanzo) flour
¼ teaspoon salt
1 teaspoon baking soda
2 eggs, separated
1 ½ cups whole-milk plain Greek yogurt
½ cup unsweetened soy, almond or whole milk
½ cup neutral-tasting vegetable oil, plus more for waffle iron
1 teaspoon vanilla extract
Fruit, whipped cream or a little maple syrup for serving
Preparation
Preheat waffle iron.
In a large bowl, whisk together chickpea flour, salt and baking soda.
In a medium bowl, whisk together egg yolks, yogurt, milk, oil and vanilla. Stir wet ingredients into dry.
In another bowl, beat egg whites with a whisk or hand mixer until they hold firm peaks. Gently fold whipped egg whites into batter — it should be on the thick side.
Cook batter in heated waffle iron following manufacturer's instructions. Serve warm with fruit, whipped cream, or maple syrup.
Yum!  Which one are you going to make?  Tell us in the comments!
For further reading and growing:
FREE download: 5 rowing workouts to build your fitness in 5 key areas
Tricks to dominate endurance rowing workouts