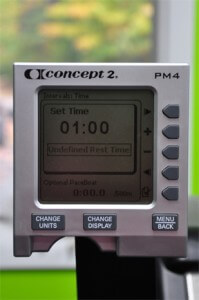 Updated Oct. 5, 2020
A lot of our interval skiing, biking and rowing workouts call for using the undefined rest feature in the Concept2 rower,  SkiErg or BikeErg monitor.  Sadly, a lot of people still don't know that's even an option.  Tragedy!
Time to change that.  There's a whole new world of workouts out there waiting for you!
This option, which works on most PM3 monitors (black) and all PM4 (silver) and PM5 (black with backlight) monitors,  allows you or your athletes to spend as much as 10 minutes doing off-erg work without losing the data from your workout or having to reset the machine.
The feature makes it super easy to do an interval workout of, for example, 5, 4, 3, 2, 1 minutes of rowing or skiing with a series of off-erg moves in between.
how to set up undefined rest
From the Main Menu choose Select Workout, then New Workout.
Select the appropriate Intervals workout
Enter your time or distance, then hit the arrow right button until Set Rest Time is blinking.  Select the + or – button and Set Rest Time changes to Undefined Rest.
Select the check box and you are ready to go.
Want a visual on how to do this?  Here you go, watch this video from our Instagram page.
NOTE: If you do not see a box around Set Rest Time then your monitor is not yet set up with undefined rest.  Update your monitor to install undefined rest.
Want to try it out?  Here's a sample workout.  Of course, you can play with the off-erg exercises and make them harder or easier to fit your fitness level.
Sample undefined rest Interval Workout
Program your monitor for 3-5 rounds of the following, using the Intervals>Distance setting with Undefined Rest
Row or Ski 500m
10 Push Ups
10 Sit Ups
10  Air Squats
Try it and tell us what you think!  You can get more workouts to test this feature in our Workouts section, or by downloading our free #GetFlywheelFit workout set.  Want to take it to the next level? Check out our #FlywheelFrenzy interval workout training program.
Got a favorite workout using undefined rest?  If you'd like to get more rowing tips and workouts delivered right to your inbox every week, we would love it if you would sign up for our newsletter.  In addition to stories like the ones you see here,  you'll get exclusive content, plus early,  private access to pick up our rowing programs at a special discount.
Related articles