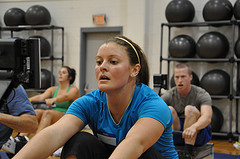 Need a new playlist to put the spark back in your erg workout or get you through that 30-minute piece?  Who doesn't??
Rowing website Rowing Related has come to the rescue with its Fall 2013 Rowing Playlist.   They've crowdsourced a rowing playlist featuring 11 "heavy-base, electronic" tracks that will "get you ready to tackle your 10k steady state, interval training, or whatever your assignment may be in style."
Artists include Lana del Rey, Avicii, Luminox, etc.  Nice mix of intensities and beats per minute to keep it interesting.
The best part?  You can preview the whole thing right from the website.
Want another playlist to peruse: We wrote one up here.
What's your favorite music to row to?  Profess your love in the comments!
Related articles