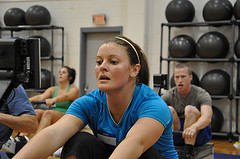 Great to see Men's Health magazine and the terrific Eat This, Not That series recognizing the calorie torching benefits of rowing in a Sweat This, Not That post.  "Rowing burns the most calories and works the most muscles, including muscles in your back, and also improves posture," the magazine notes, and it even references a Brazilian study that indicates you can burn more than 25 percent more calories if you're rowing on the water.
Either way, rowing and weight loss are a natural combination, and it's a non-impact, total-body activity that you can do throughout your life.  Want some good rowing workouts to get you started?  We have them for you here, and if you'd like to read how it worked for one person check out Sarah's Story.
Want to learn how to row better and get more out of your rowing workouts? Find a certified instructor near you or attend one of our Indoor Rowing Foundations trainings.