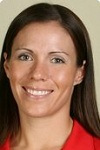 Have you ever wanted to learn to teach indoor rowing – or just perfect your own technique – from an Olympian?  Here's your chance: Heather Alschuler, a former Canadian Olympian, national teamer and now accomplished indoor rowing evangelist in Seattle, is bringing her talents to UCanRow2's Indoor Rowing Basic Course.
Heather will be leading the Indoor Rowing Basic Course at Seattle's Pocock Rowing Center on Saturday, April 13.  Attendees at the rowing cert will have an opportunity to get individualized critiques of their rowing on the Concept2 rowing machine, learn how to put together a class on the machine, and pick up important tips on working with different populations of exercisers.  Want to know how best to take care of your Concept2 rowing machine?  You'll learn that too.
The course will be led by Heather Mandoli Alschuler, who has been involved in rowing on and off the water since the day someone brought an erg to her high school P.E. class.  As an athlete, she was an All-American rower at the University of Michigan and then went on to row for Team Canada for five years at various World Cup and World Championship regattas. She raced primarily in the women's pair and eight events, placing sixth or higher in every international race and capped off her career in the women's 8+ on the 2008 Olympic team.
Particularly well-rounded as a coach, she has worked with everyone from novices to aspiring Olympians to masters.  She is the Erg Ed instructor and coordinator for Row to the Future's Erg Ed program, which is setting the bar for other cities to follow in bringing rowing into schools.
The Indoor Rowing Basic Course fee is $275, with an Early Bird rate of $225 until March 23.  Ready to register? Sign up!