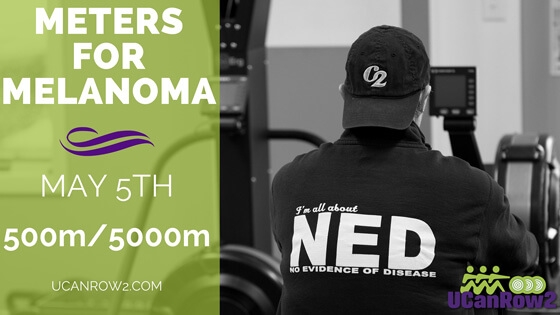 Fight melanoma cancer and get your row on at the same time!  METERS FOR MELANOMA, our annual fundraiser to support research and education by the Midwest Melanoma Partnership is back for a second year, bigger and better than ever.  We've added prizes – ERGS! – for top fundraisers and, thanks to a $20,000 challenge grant, your donations are worth even more this year.
row a little – row a lot
REGISTER NOW to either row as an individual, or get your small team (25 or fewer) or large team (26+) together and plan to raise funds and row meters together.  We've made the meter distances accessible for pretty much anyone.  You can row as few as 500 meters, or 5000 meters, or beyond.  Not into rowing?  Just want to support the cause?  No problem.  You can even donate to register as a Virtual Rower and your entry will count towards the prizes.
WIN A ROWING MACHINE OR SKIERG!
This year we're sweetening the pot and giving one individual and two teams their choice of a Concept2 rowing machine or SkiErg.  There are minimum fundraising levels to qualify for the erg giveaway – check the registration page for details.  All registrations received before April 1, 2017 will get a swag bag and a cool t-shirt you can wear when you row your Meters for Melanoma.  Swag for any registrations received after April 1 will go out after the event.

raise money to fund melanoma cancer research
Melanoma cancer is one of the deadliest forms of the disease.  One person dies from it EVERY HOUR.  Think about that: In the time it takes you to finish your workout at the gym, one person has died from melanoma cancer.  On-water rowers and outdoor athletes in general are at great risk for cutaneous melanoma due to their exposure to the sun.
Prevention is critical.  And much easier than treating this deadly disease, as we at UCanRow2 know all too well.  That makes Meters for Melanoma a labor of love for us.  A very personal one as you'll see below if you watch the video from our own Terry Smythe, who was diagnosed with rare mucosal melanoma late in 2013.  [Did you know that melanoma actually has three forms – cutaneous, mucosal and ocular?]
Meters for Melanoma 2017 from UCanRow2 on Vimeo.

The Basics
WHEN: May 5th-7th, 2017
WHERE: Anywhere you can find a rowing machine or SkiErg!
WHY: To raise funds for melanoma research and awareness. Our goal is to raise at least $20,000 for these activities, which will then be matched by an anonymous donor.
HOW: Grab your team, or sign up as an individual at this link.
NOTE: While it is Terry's hope that everyone will be active in some way during this weekend, you DO NOT need to row to participate.  Virtual rowers are welcome, too!

Questions? Post them in the comments.  Come row with us and help us fight melanoma!